The Essbe Permanent Jewelry Class Review: Is It Worth It?
We foster relationships with brands we use and trust. The testimonials on our site represent real experiences, but they don't guarantee you'll achieve similar results. When you make purchases through our links to our partners, we may earn a commission. Your support helps us continue this work. You can read our full disclosure here.
I found the Essbe Permanent Jewelry Class while searching for legitimate permanent jewelry training online. After reading through the course outline and watching some of the introductory videos, I can truly say that this class is worth it. The instructor does a great job of breaking down the steps involved in welding permanent jewelry so anyone can understand them.
This growing industry is proving to be far more profitable than other types of startup business opportunities. The typical permanent jewelry artist's profit margins are incredibly high, even taking into account the initial investments including training, purchasing a welding machine, and paying for materials. Keep reading this Essbe Permanent Jewelry Class review to find out if the permanent jewelry field is one that could help you increase your income.
Quick Facts About The Essbe Permanent Jewelry Class
The Essbe Permanent Jewelry Class is an online course designed to help artists learn a new trade. It can be intimidating – not to mention dangerous – to try to weld a piece of jewelry onto someone else's body if you don't know how to handle the equipment. That is why taking a course like Essbe, which walks students through the entire process, is crucial.
The Essbe Permanent Jewelry Class Pros
Accessible online
Provides up-close instruction on how to perform permanent jewelry services
Teaches business-building knowledge, including branding, setting up a website, SEO, growth strategies, and more
Includes an online supportive community for additional support
Awards a certificate of completion
Provides templates to help build your marketing
Includes checklists, shopping lists, and supply guides
Contains a complete startup kit
Includes a 5 percent discount on the Orion welder
Includes instruction by a teacher with more than five years of experience in jewelry-making
The Essbe Permanent Jewelry Class Cons
Since it's a brand new course, there are no reviews from past students
The course is pricey, which might be a deterrent
There is no in-person option to learn with a hands-on approach
The welding machine does not come with the course purchase
Students are limited to one year of access to the course
Related: Orion mPulse 30 Review: The Best Permanent Jewelry Welder?
Essbe Permanent Jewelry Class Reviews
While completing my own research about this course, I checked Facebook, Google, and the Essbe site itself to see if I could find reviews left by former students. While I was unable to find any, I did find several positive reviews about the purchase process through company owner Sarah. It's ultimately difficult to determine whether or not the course leaves students feeling satisfied with their new skills, and if they've actually gone on to become successful permanent jewelry welders.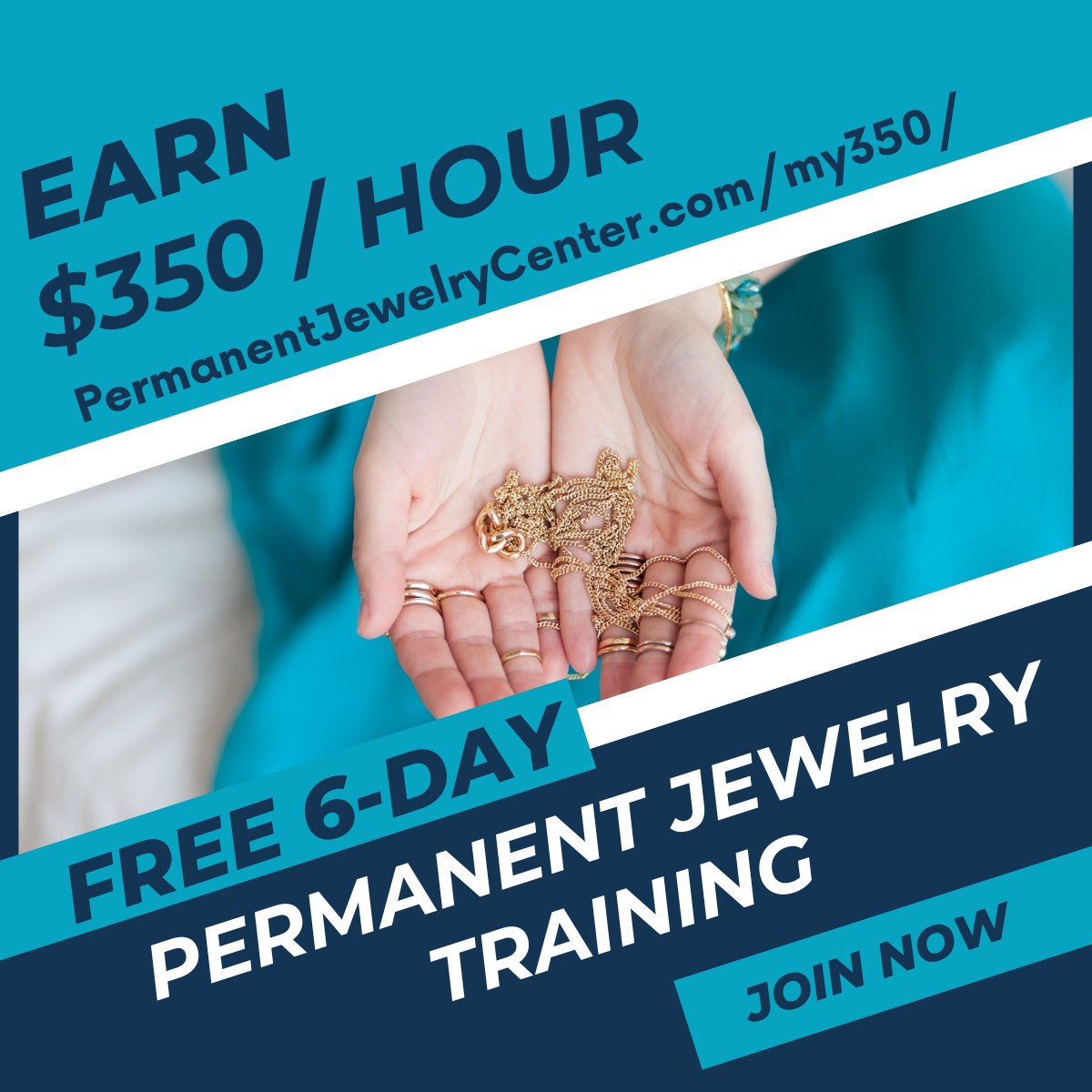 How Does The Training Work?
The purchase process through Essbe is straightforward, and gives quick access to the short certification program. The class focuses on getting students into the permanent jewelry field as soon as possible, allowing them to immediately begin making back the money they've invested. Follow the steps below to get started with the Essbe Permanent Jewelry Class and create a new career for yourself.
Choose Your Package
Review the two available Essbe package options before making your decision. Use the exclusive Essbe discount code THEPAYATHOMEPARENT100 for $100 off your purchase.
Course Only: Purchase just the course and complete it at your own pace. This option does not come with any materials or a welding machine. It is simply a resource that will help you learn the business and teach you ways in which you can make customers happy with their purchases. You will have access to the course for a full year, so you can complete it in your own time and refer back to if you have any further questions. This option is the least expensive option of the two, but you will have to purchase your welder, tools, and jewelry separately.
Course and Starter Kit: This option includes the entire course, plus the starter kit, which includes everything you will need to kick-start your business (except for the welding machine), such as 20 feet of chain, 100 jump rings, protective eyewear, charms, wire cutters, and more. You will also receive the templates needed to start advertising your business on social media. This package is the more expensive option of the two, plus you will still need to purchase the welder of your choice.
Related: LINKED Permanent Jewelry Review
Receive Immediate Access
After you have chosen your package and completed your purchase, you will receive immediate access to the class. Double-check the email address you use when making your purchase, because that is where your receipt will be sent, and that's where you will be sent access to the course.
Complete the Course
Take your time combing through each course module. The course offers an extensive and thorough curriculum that teaches you not only how to perform permanent jewelry welding but also outlines effective strategies for setting up and marketing your business successfully.
Once you have finished you will receive a certificate of completion that you can use to advertise your skills and demonstrate your education in the permanent jewelry industry. This proof that you've received appropriate training will make customers feel more confident in purchasing from you.
Practice
Try out your new skills with friends and family members, and offer them a discount in exchange for allowing you to practice on them. This will allow you to gain confidence and skill in your new business before moving on to paying customers.
Market Your Services
The Essbe course will provide you with templates that you can use to market your services on social media. You may still need to do additional marketing like designing business cards and brochures to pass out to others in your community, plus setting up a business website to build your brand.
Consider becoming a permanent vendor for local events, where you can perform services on the spot. In addition, offer specialty services at birthday parties, bridal showers, girls' nights out, and more.
Related: Flash and Fuse® Permanent Jewelry Training Review
Essbe Permanent Jewelry Training Q&As
My intention for this Essbe review is to provide as much information about this permanent jewelry course as possible so that you can make an informed decision about your potential purchase. Check out the following answers to commonly asked questions about the Essbe Permanent Jewelry Class, to decide if taking it is right for you.
Who owns Essbe?
The Essbe Permanent Jewelry Class was created by Sarah Brithinee, a YouTube creator and jewelry maker with more than 10 years of business experience. Essbe is home to her permanent jewelry course, as well as the handmade jewelry that she makes herself.
Sarah attended the Fashion Institute of Design and Merchandising in Los Angeles to help build a solid foundation in this new industry. She founded Essbe in 2017 and has been turning heads with her jewelry pieces in addition to helping other business owners live out their dreams and provide permanent jewelry services to their customers.
Does The Essbe Permanent Jewelry Class offer financing options?
While Essbe itself doesn't offer financing options, it uses Shop Pay, which partners with Affirm to provide payment plans. Essentially, Shop Pay will cover your tuition upfront and then you will pay Shop Pay back over time.
Payment options for the Essbe course could look like $180.25 per month for 12 months, or $682.38 per month for three months. Payment plan-pricing will vary based on your package choice.
Is Essbe Permanent Jewelry training worth it?
The Essbe Permanent Jewelry Class is worthwhile if you find permanent jewelry an interesting concept and are able to complete the course within a year. You also need to be committed to making this business work. The course will give you the education and the tools to get started, but you have to take initiative, market your business, and consistently put in the work with your customers.
Related: How Much Does it Cost to Start a Permanent Jewelry Company?
How long does it take to complete the Essbe Permanent Jewelry Class?
The course can be completed at your own pace. You will have access to the course for a year, so there will be no rush. Learn everything you can while you're studying, so that you feel capable and confident when you start taking on paid customers.
Do you need experience with welding to become a permanent jewelry artist?
You don't need any prior welding experience to start a permanent jewelry business. That's what this course is for: to teach you how to safely weld jewelry onto your customers.
Essbe Permanent Jewelry Training Final Thoughts
This Essbe Permanent Jewelry Class review has demonstrated all that Essbe has to offer. This course is dedicated to helping others learn a new skill and become successful with their own permanent jewelry businesses. Essbe provides a wealth of information to its students, from using a welding machine, to establishing a business foundation, and marketing to new customers.
Consider everything that will go into your decision to take this course, from the expense to the limited-time access you will receive. But if you can make it work financially and complete the course within a year, then Essbe could be a perfect fit for you.
Use this review of the Essbe Permanent Jewelry Class to help you decide what next step to take. The money you make as a permanent jewelry artist could be exactly what you need to change your life. Use this course to invest in yourself.
Related: The Best Permanent Jewelry Chains & Supplies You Need