What is Permanent Jewelry and How Does it Work?
We foster relationships with brands we use and trust. The testimonials on our site represent real experiences, but they don't guarantee you'll achieve similar results. When you make purchases through our links to our partners, we may earn a commission. Your support helps us continue this work. You can read our full disclosure here.
In a world of self-expression, consumers continue to seek out the next big thing that will give them a sense of identity. For some, that means getting a new tattoo. Others instead choose a body piercing. But a newcomer is making waves for these trend-seekers: permanent jewelry.
This service offers a painless way to have a piece of art permanently placed onto your body without needles or irreversible body modifications. Absolutely anyone can get a permanent jewelry piece – even children (with a parent or guardian's consent, of course).
To find out more about permanent jewelry and how it works, read on to more fully understand this art form. Discover the facts behind its origin and learn why so many people have turned to permanent jewelry for their next statement pieces.
What is Permanent Jewelry?
Permanent jewelry – which is also known as forever jewelry – involves welding bracelets, necklaces, or anklets onto the customer's body. This process eliminates the need for clasps that are seen on traditional jewelry.
This service is offered by a professional who is trained in the art of permanent jewelry. Not just any type of chain can be used, so the jewelry artists provide specialized chains and jewelry pieces to help their clients obtain the styles they love. Permanent jewelry users enjoy this type of fashion because it saves them time getting ready every day and increases their confidence.
The History of Permanent Jewelry
Thanks to the rise in permanent jewelry's popularity, it's easy to believe that this is a new trend or fad. In actuality, this type of service has been around for years – and is rumored to have been started in 1969 with the Cartier Love Bracelet, created by French designer Aldo Cipullo.
The Love Bracelet was one-of-a-kind, removing the need for a clasp to secure the bracelet onto its owner. This bracelet is still being sold today, for thousands of dollars, and is attached to and removed from a wrist with a screwdriver. Thanks, in part, to Cartier, permanent jewelry has since evolved into the service we see today.
Related: How to Start a Permanent Jewelry Business
How Does Permanent Jewelry Work?
As you anticipate getting your new piece of permanent jewelry, check out the steps below, which will detail what to expect. It's important to know what you are walking into.
1. Customize your chain
The process of placing a permanent bracelet, necklace, or anklet onto your body is quite simple. Just choose from the chain options offered by your jewelry welder, including the color and pattern that you want.
Some chains will feature additional embellishments, like pearls, and your permanent jewelry artist may also offer pendants that you can add to your chain.
2. Choose the length
The welder will measure the chain for placement to allow you to see and feel the jewelry on your body before it is permanently placed.
Consider the length and tightness of the piece. Look at yourself in a mirror to see if you like the final product. If you are happy with the placement, then it is time to permanently weld it.
3. Welding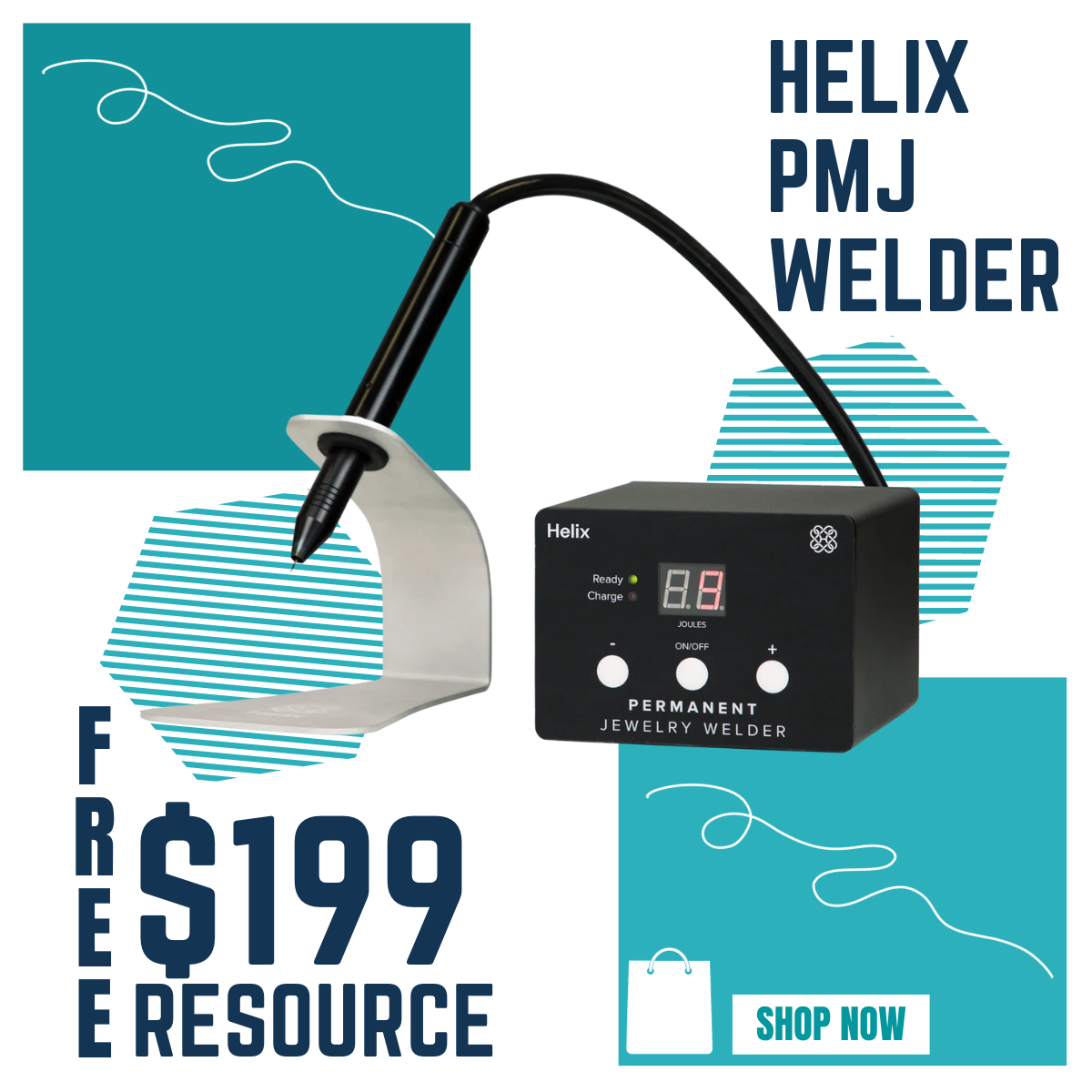 Permanent jewelry welders use "loop rings" to connect the end pieces of the chains. A piece of cloth is positioned between the skin and the chain to protect the clients.
The jeweler will give you protective eyewear to shield your eyes from the welder pen. With all precautions in place, he or she will then use a welding pen to permanently weld the loop ring shut for permanent placement.
Small, portable welders are used for this purpose. These are different from welding machines that are sold at hardware stores or found in auto repair shops. This machine is safe to use for small projects like welding forever jewelry.
4. Polishing
The welding process takes only a few seconds to complete. Afterward, the jeweler will rub down the newly closed loop ring to get rid of any sharp ends. This is known as polishing. At the end of this process, you will walk away with a beautiful statement piece permanently located on your body.
From start to finish, the process should take no more than 15 minutes, including choosing your chain, measuring the length, and welding the piece onto your body.
Why Do People Get Permanent Jewelry?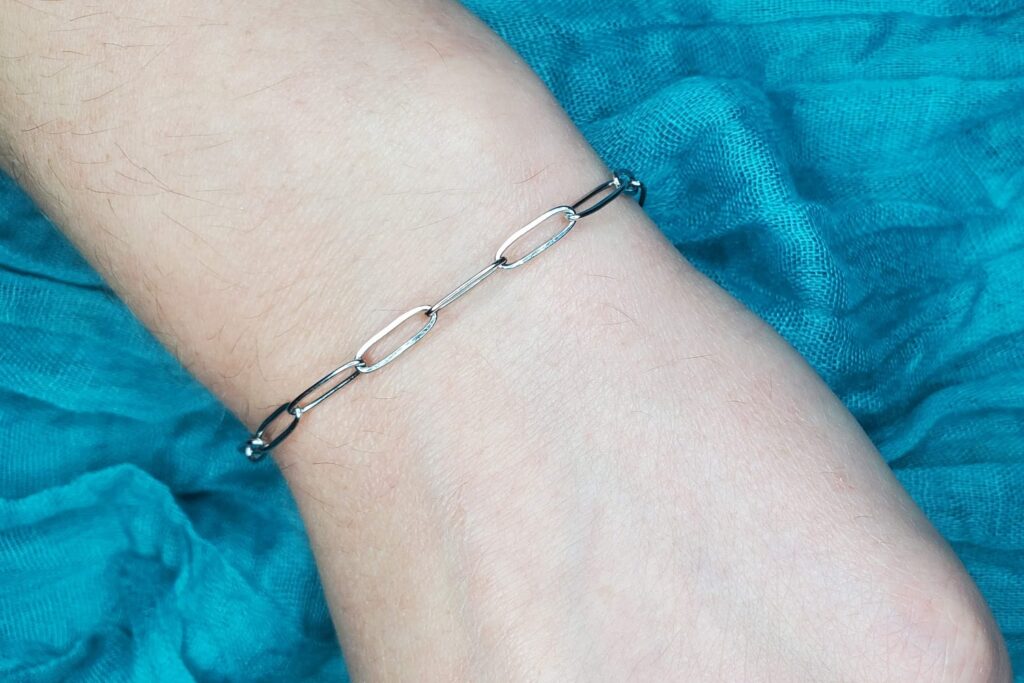 Consumers choose forever jewelry for the same reasons they purchase a new outfit or get a new tattoo or piercing. It's exciting and helps them express themselves in creative ways. A new outfit may boost someone's confidence for a job interview. A new tattoo might celebrate a loved one or give someone the feeling of identity. Similarly, a new piercing can give a sense of belonging.
Permanent jewelry is just another form of expression, identity, and confidence-building. It feels good to have a new piece of jewelry that is custom-made to your exact measurements using a chain that you chose for yourself. Some people may find personal significance in the piece they choose, while others just want to participate to see what the process is like.
There is no one answer to why people get permanent jewelry; at the end of the day, everyone has their own thoughts and opinions about it.
Permanent Jewelry FAQs
The following frequently asked questions about forever jewelry will give you the answers to queries you might not have yet considered.
How long does permanent jewelry last?
The idea is that your forever jewelry will last … well, forever. There is no need to take it off. You can swim and shower with the jewelry on.
If your chain does eventually break or become snagged or stuck on something, your jewelry welder may be able to weld the piece back onto you for free. Each jewelry artist has his or own guidelines regarding broken items.
How much does it cost to get permanent jewelry?
The cost will vary depending on the piece that you want, and whether it's a bracelet, necklace, or anklet. Necklaces are typically the most expensive, because they utilize more chain material than an anklet or bracelet.
Each permanent jewelry welder creates his or her own prices for services and materials. You are paying for the expertise and for the pieces themselves. Inquire with the permanent jewelry artists in your area to discover what the prices might be for their forever jewelry options.
Can you wear permanent jewelry through airport security?
Airport security doesn't typically require travelers to remove any pieces of fine jewelry when going through metal detectors. You should not be asked to take off your forever jewelry.
Can you wear permanent jewelry through MRI?
Many hospitals require patients to remove all jewelry before going through an MRI. This is done for their safety and to avoid having a foreign body show up on the scans. If you need to get an MRI, you will most likely have to cut off your permanent jewelry in compliance with hospital policy. Simply plan ahead and ask your jewelry welder if he or she can re-weld the piece back on after the MRI is finished.
Does it hurt to get permanent jewelry?
The permanent jewelry process is completely painless, and is something even children can get. The experience is pleasant and fun from start to finish. To prevent vision damage, wear your protective eyewear or look away when the welding machine is in use.
Permanent Jewelry Is Here to Stay
As evidenced by the long history of forever jewelry, it is clear that consumers enjoy the idea of jewelry that produces a smooth and clean finish. Clasps are bulky and unsightly, and even ruin photographs when they dangle too low. This problem is completely solved by forever jewelry.
From bracelets to anklets to necklaces, there are many options to consider for your next statement jewelry piece. Choose something simple and cute, or bold and graphic. Customize it until you are completely satisfied.
Now is the time to get your first forever jewelry. Once you start this addicting practice, you won't want to stop. The simplicity of the process and the excitement behind new jewelry is unbeatable. Plan a forever jewelry party at your home and invite your friends to join you in getting new jewelry pieces together. It will be a memorable experience from start to finish.