Orion mPulse Review: Best Permanent Jewelry Welder?
We foster relationships with brands we use and trust. The testimonials on our site represent real experiences, but they don't guarantee you'll achieve similar results. When you make purchases through our links to our partners, we may earn a commission. Your support helps us continue this work. You can read our full disclosure here.
Permanent jewelry is all the rage on TikTok and Instagram. Like many others, I found my interest piqued by this trend – but not just because I wanted to wear the jewelry. I also wanted to explore the business side of this fashion movement.
Short of the actual knowledge needed about permanent jewelry application, possession of a welder is the No. 1 necessity for a permanent jewelry artist. When I began researching permanent jewelry welders, I quickly became overwhelmed by the sheer number of available options. There are a plethora of models and brands on the market, making this feel like an impossible task. After a lot of research, I came across the Orion mPulse pulse arc welder by Sunstone Welders.
Ready to become a LINKED certified permanent jewelry welder? Use the discount code TRINITYTPAHP at checkout to get $100 off!
Called the best permanent jewelry welder in the world for good reason, the Orion mPulse Welder offers advanced features and cutting-edge technology. The high claims by online reviewers did a lot to convince me of its value, but it still took me some time to find out exactly why the Orion mPulse was such a great choice. Ultimately, though, it quickly became obvious to me that this is truly an excellent option for beginner permanent jewelry welders.
The Orion mPulse pulse-arc welding system is a powerful and versatile machine designed to meet permanent jewelers' welding needs. Its wide range of uses – from closing jump rings to repairing chain links – make it perfect for anyone in the permanent jewelry field. I highly recommend it, especially for beginners who have no experience in welding.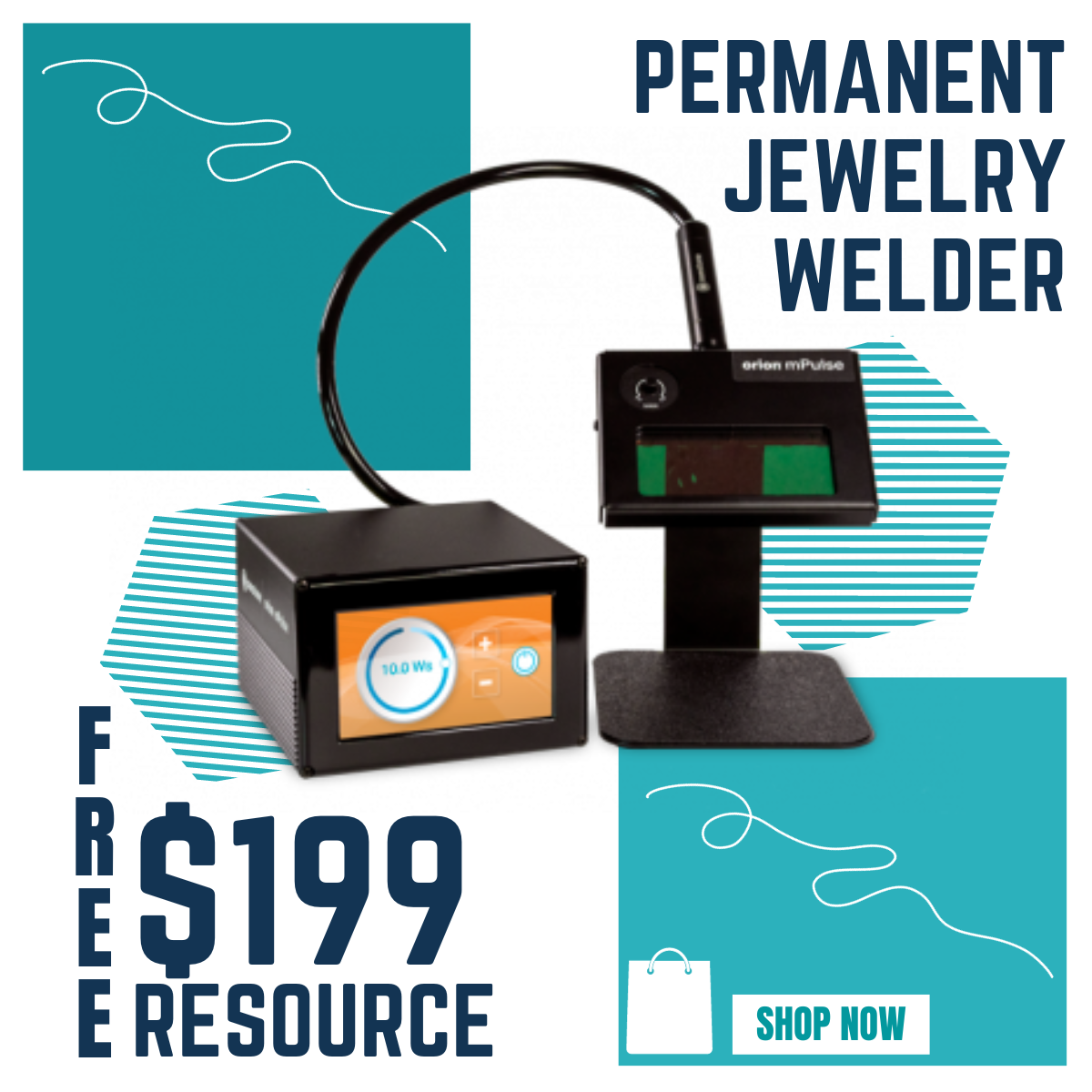 The MOST POPULAR Welder Used for Permanent Jewelry
$2,400 $2,280
The Orion mPulse Welder by Sunstone sets the gold standard in the industry.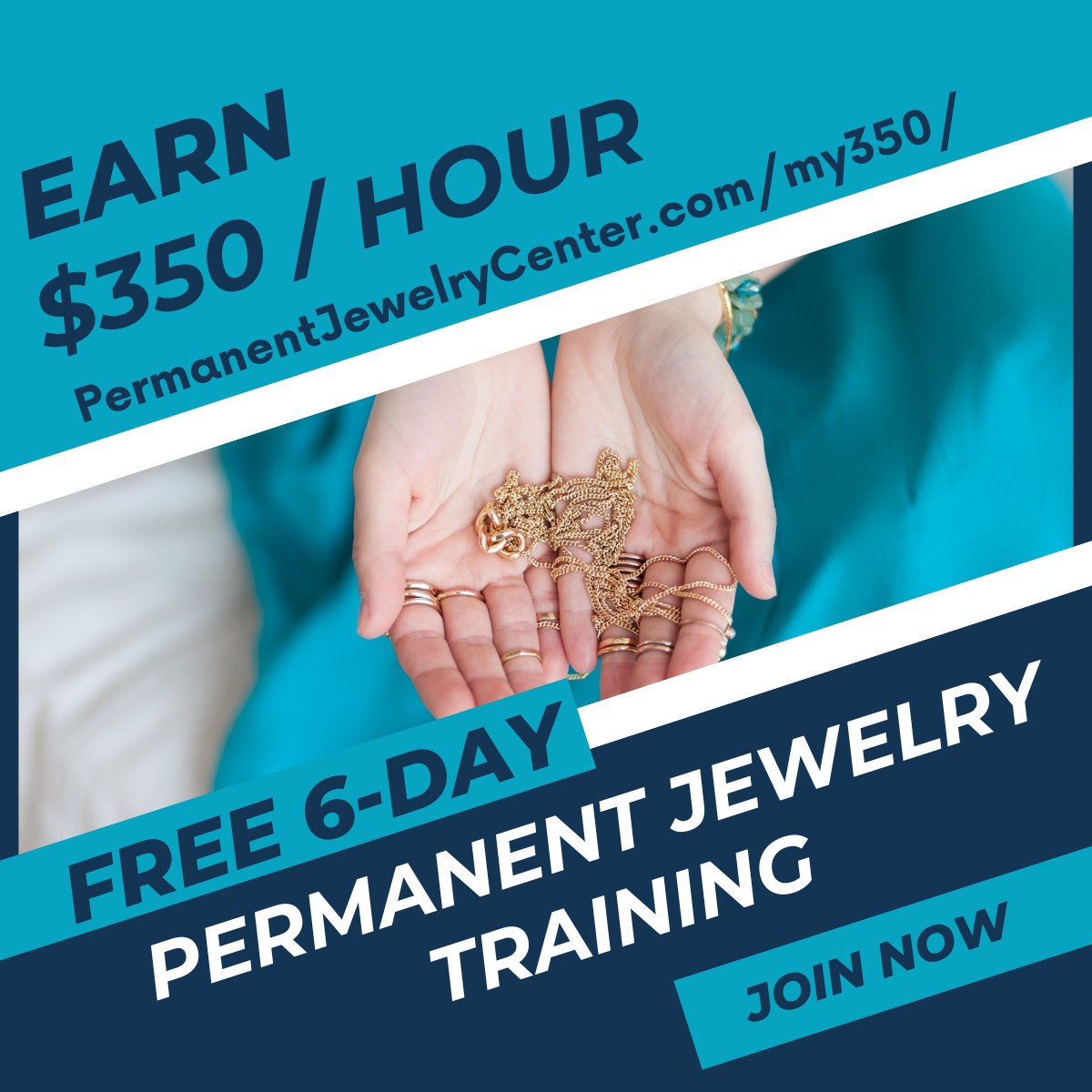 What is Sunstone Welders?
Sunstone Welders manufactures and sells pulse arc welders, engraving tools, and other welding products. Founded in 2002, this company has quickly become a leader in micro-welding technology, which is used in jewelry, medical devices, dental work, electronics, and other industries.
This company's flagship products are built with the widely recognized Orion Pulse Arc Technology. The Orion mPulse Welder is designed for precision welding on small, delicate pieces like jewelry. It also offers a wide range of features including adjustable power settings, a touchscreen, and an easy-to-use interface.
In addition to its welding products, Sunstone also offers training videos and resources to help customers get the most out of their equipment. This organization has become a trusted source for all things micro-welding technology related, and provides its customers with reliable products and support.
Since its inception, Sunstone Welders has found itself at the forefront of micro-welding technology. Its team's commitment to innovation and customer service has contributed to Sunstone's status as a leader in the field.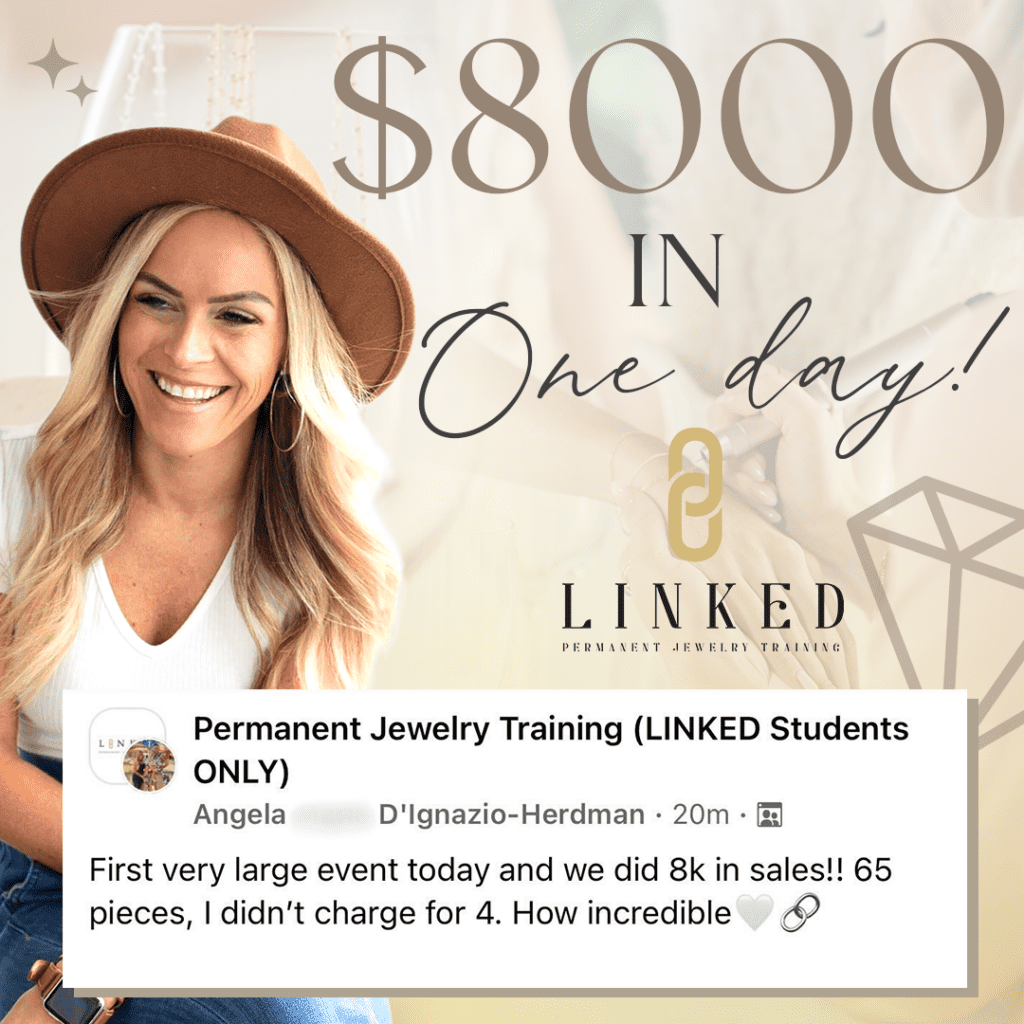 Pros and Cons Based on Real Customer Reviews
Established permanent jewelry artists regularly choose the Orion mPulse Welder to complete high-profit jobs, but that doesn't make it the best permanent jewelry welder for everyone. Consider this device's pros and cons, to help you decide if it's right for you.
Pros:
This extremely versatile device is capable of welding a wide range of materials including gold, silver, platinum and titanium.
It is easy to use, with simple touchscreen operation and intuitive user interface.
Its small size makes it ideal for safe storage and portability.
The plug-and-play design makes setup and calibration quick and easy.
The machine works with standard power sources, including 120 VAC or 230 VAC.
Purchase includes a two-year limited warranty with the option to upgrade to a lifetime warranty.
This machine offers a high ROI in terms of productivity and cost savings.
Ready to become a LINKED certified permanent jewelry welder? Use the discount code TRINITYTPAHP at checkout to get $100 off!
Cons:
The price point may be prohibitive for customers looking for an entry-level welding machine.
It requires plenty of hands-on practice to provide consistent results.
Returns are subject to a 10 percent restocking fee.
Best Place to Buy the Orion mPulse Welder
I recommend purchasing the Orion mPulse Welder through Permanent Jewelry Center as it is an official Sunstone dealer, unless you decide to take a permanent jewelry training course and receive an exclusive discount on your welder. With any welder purchase made from Permanent Jewelry Center, you'll receive an extensive business-launch checklist for free.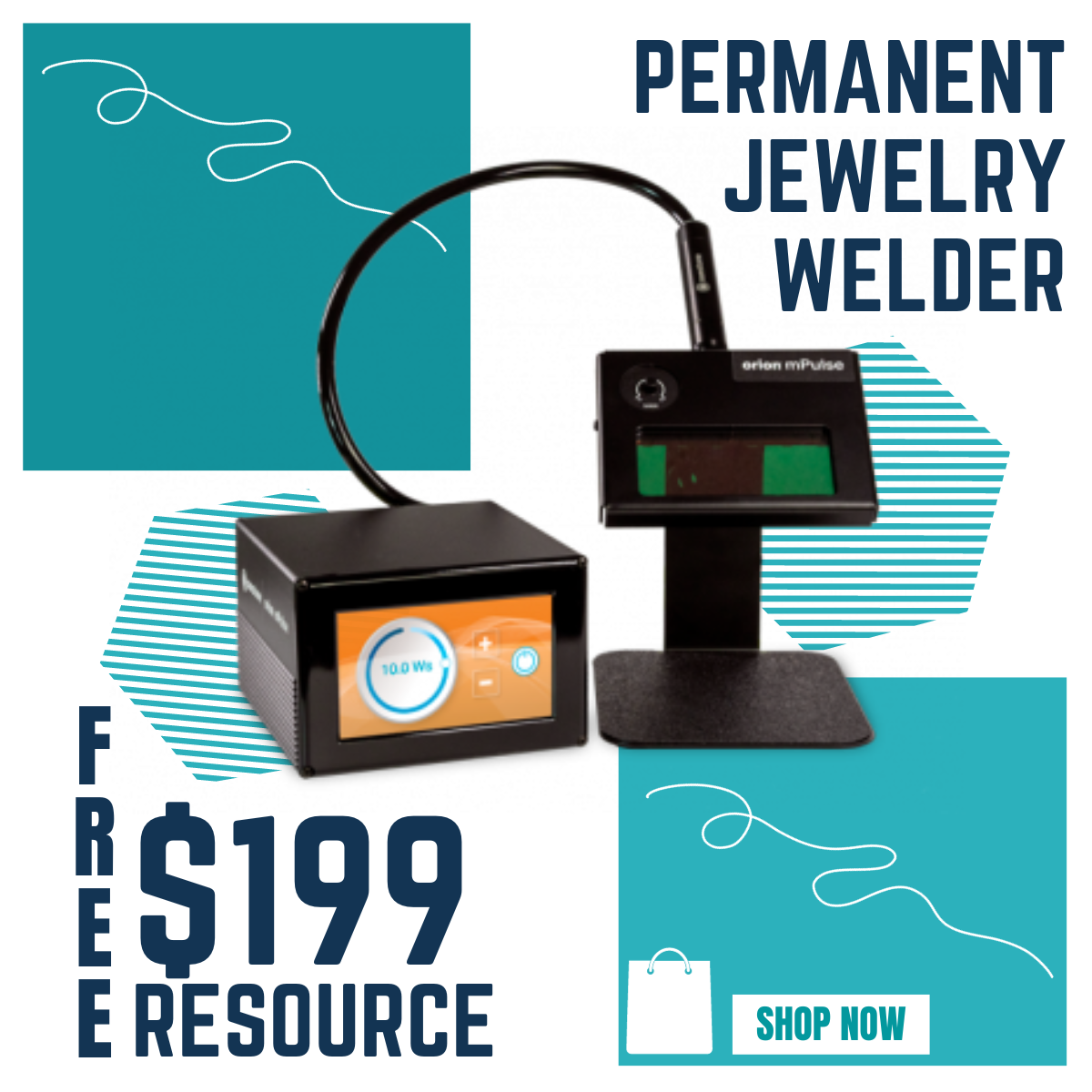 The MOST POPULAR Welder Used for Permanent Jewelry
$2,400 $2,280
The Orion mPulse Welder by Sunstone sets the gold standard in the industry.
Amazon is another place to get your welder. This trusted online giant holds its vendors to a high standard and offers free returns, optional Asurion protection plans, free and fast shipping for Prime members, and the option of earning a 5 percent shopping credit if you use your Amazon Store Card.
Amazon also offers an easy and convenient shopping experience, allowing you to compare prices and make a purchase right from the comfort of your own home. This retailer features customer reviews, which can help you make an informed decision about the quality and functionality of a product before making a purchase.
I love Amazon's return policy, which will allow you to return the welder within 30 days if it does not meet your expectations – or exchange it if there are any issues with it. Customers located in the United States "can return the item for any reason in new and unused condition: no shipping charges." Double check that the product includes free returns before you purchase it.
Buying the Orion mPulse 30 through Amazon will still include sales tax, and the price is often higher than when purchased through a dealer. A signature upon delivery is also required.
Ready to become a LINKED certified permanent jewelry welder? Use the discount code TRINITYTPAHP at checkout to get $100 off!
Features of the Orion mPulse
When I first started researching pulse arc welders, I didn't know much about the technical specifications or the terminology used to describe them. Now that I'm much more familiar with the permanent jewelry industry, I have done my best to break down the important aspects of the Orion mPulse Welder in a clear and concise way.
Flexible Power Range of 3 to 30 Joules
The Orion mPulse 30 has a flexible power range of 3 to 30 Joules, allowing you to adjust the amount of energy used for different types of welds. For example, a low power setting would be ideal for thin metals, while a higher setting is better for thicker materials.
The flexibility of this range also allows welders to adjust the heat and penetration levels needed for various welds, such as spot welding or TIG welding. By having the ability to adjust the power range, welders can ensure that they are using the right amount of energy for each type of job.
Welds Spots Between 0.5mm to 1.5mm
The Orion mPulse is the perfect solution for those who need to weld fine chain links and other jewelry pieces. With a spot size range of 0.5 mm – 1.5 mm, this machine helps to create strong and secure connections between small components without compromising quality or precision.
Touch Screen Display
The Orion mPulse 30's intuitive and user-friendly touchscreen display provides easy access to settings and adjustments, allowing users to quickly fine-tune the welding parameters. The adjustability of the machine's power levels, pulse duration, and spot size helps welders achieve their desired results.
The touchscreen display simplifies the process of selecting the appropriate settings for different materials and weld types, ensuring precise control over the welding process and ultimately contributing to the creation of high-quality, consistent, and tiny, perfect welds in permanent jewelry applications.
Compact Design
The Orion mPulse Welder weighs only 6.78 pounds and is 5.5 x 5 x 3.5 inches. This small size and light weight make it highly portable and convenient to transport to pop-up shops, events, or trade shows, where jewelers can complete on-site jewelry welds.
Its compact design allows permanent jewelry artists to easily carry the welder in a case or bag without taking up much space or adding significant weight. This portability enables jewelry professionals to provide their services in various locations, expanding their reach and offering greater convenience to their customers.
AC Power Source
The Orion mPulse 30 is a plug-and-play device, making it easy to set up and use with an AC power source. The welder comes with a power cord that can be connected to a standard 110 or 220-volt electrical outlet, allowing jewelers to use the machine without any additional equipment or a complex installation process.
Once the welder is plugged in and turned on, adjust the settings and use the touchscreen interface to control the welding parameters. This plug-and-play functionality makes the Orion mPulse an accessible and convenient tool for both beginners and experienced permanent jewelry welders.
Made in the USA
The Orion welder is made in the USA, contributing to the welder's durability, reliability, and efficient performance by ensuring high-quality craftsmanship and adherence to strict manufacturing guidelines. Thanks to its American manufacturing, the Orion mPulse 30 benefits from rigorous quality control processes, guaranteeing that each unit meets the highest standards for functionality and safety.
Purchasing a product made in the U.S. supports the local economy and promotes job growth within the country. Investing in the Orion mPulse 30 not only provides you with a reliable and high-performing welding machine, but also contributes to the nation's broader economic wellbeing.
More Practical Benefits of the Orion mPulse 30
Understanding the technical specifications is important when comparing pulse arc welders, but knowing the firsthand benefits of the mPulse 30 is key to deciding if this is the right machine for you.
Easy to Use and Operate, Even for Beginners
Selecting a beginner-friendly pulse arc welder like the Orion mPulse Welder allows for a quick learning curve, enabling you to efficiently master the welding process and produce high-quality jewelry welds without extensive training. This ease of use not only saves time and resources, but also reduces the likelihood of mistakes, ensuring customer satisfaction and positive reviews for your business.
An easy-to-use welder that prevents confusion and burnout contributes to a more enjoyable working experience, fostering creativity and maintaining productivity. All of this will ultimately lead to the growth and success of your permanent jewelry business.
Versatile
The Orion mPulse 30 is a highly versatile welding machine capable of working with a wide range of materials including gold, silver, platinum, palladium, titanium, and stainless steel. Jewelry professionals who use this machine can cater to diverse customer preferences and offer a broader selection of metal options.
When customers are given the option to upgrade or customize their metal choices, they can personalize their jewelry to better suit their tastes and needs. The ability to work with various metals enables the jewelers themselves to expand their product offerings, attracting a larger customer base and ultimately driving business growth and success.
2-Year Manufacturer Warranty
Sunstone Welders provides a two-year warranty on welders, including the Orion mPulse 30, with unlimited usage hours. This warranty demonstrates Sunstone's commitment to delivering high-quality products and providing excellent customer service. The two-year coverage period gives customers peace of mind, knowing that their investment is protected against any manufacturing defects or issues arising from normal use.
In addition, the warranty's unlimited usage hours inclusion indicates that Sunstone stands behind its machines' durability and performance, regardless of the frequency with which they are used. This limited warranty highlights Sunstone's confidence in its products, and provides customers with a reliable and trustworthy welding solution.
Optional Sunstone Circle Protection Plan
The Sunstone Circle Protection Plan costs $15 per month and provides a warranty that never expires, as long as the welder is covered by the Sunstone Circle. Rest assured knowing that your welder is protected from any potential problems or defects.
If anything goes wrong with your machine, you can tap into benefits including free repairs, a free loaner machine, and free shipping. If your machine has run its course, you could even receive a free replacement – with the newest model and software – at Sunstone Welders' discretion.
You don't need to purchase your welder from Sunstone's website in order for it to be eligible for coverage. You can purchase the welder from an authorized dealer's website or Amazon and contact Sunstone to set up coverage. The plan must be established immediately upon the arrival of your brand-new machine.
Best Orion mPulse 30 Alternatives
You can find cheaper pulse arc welders that claim to offer similar features and performance to the Orion mPulse Welder. While these alternatives might not have the same specifications, they may still be a good choice for those looking for a more budget-friendly option.
The less expensive welders don't always offer the same quality or longevity as the Orion mPulse 30, but it would be better to start your permanent jewelry business with a cheaper welder and upgrade it later than never begin at all.
LINKED's Pulse Arc Welder (Recommended)
This welder is a tried and true alternative to the Orion mPulse 30, offering reliable, high-quality welds. The machine is available as part of [linked-deluxe sub1="orion-mpulse-30-review"], which offers startup training, business growth strategies, free marketing videos and images, community support, and an all-inclusive starter kit with chain, jump links, and tools.
The Pulse Arc Welder is larger than the mPulse 30 and does not include a touchscreen. It's also louder than the Orion machines, making it less than ideal in some environments. LINKED staff checks each machine before shipping, to ensure optimal performance.
The best part about choosing the Pulse Arc Welder is that you will pay a similar price as the Orion yet it includes [linked-deluxe sub1="orion-mpulse-30-review"] plus high-quality marketing materials and community support.
Ready to become a LINKED certified permanent jewelry welder? Use the discount code TRINITYTPAHP at checkout to get $100 off!
Related: LINKED Permanent Jewelry Training Review
Ding Xing Jewelry Machine (Not Recommended)
This pulse arc welder is designed for simple jewelry welding and repair. It has adjustable power settings and is compatible with various metals including gold, silver, and platinum. While it may not have the same power range as the Orion mPulse Welder, it is a more affordable option for those looking for a basic pulse arc welder.
There are very few verified reviews about this welder, but I did figure out that it's manufactured in China, costs far less than the Orion, is clunky and controlled by dials versus a digital touchscreen, and is larger and noisier than the mPulse 30. If you purchase this machine but plan to weld hundreds of links per month, I recommend putting money aside and upgrading to an Orion within the next year or two.
If you choose to purchase a lower-priced alternative like the Ding Xing Jewelry Machine, you may need to compromise on certain features, weld quality, or customer support. I highly suggest that inexperienced micro welders opt for the Orion mPulse Welder. Not only does it have a wide range of power settings, but it also comes with a two-year manufacturer warranty and customer support to help you out in case something goes wrong. This machine has been tested and approved by professional welding associations, so you can trust its performance.
Sunstone Welders Upgrades and Options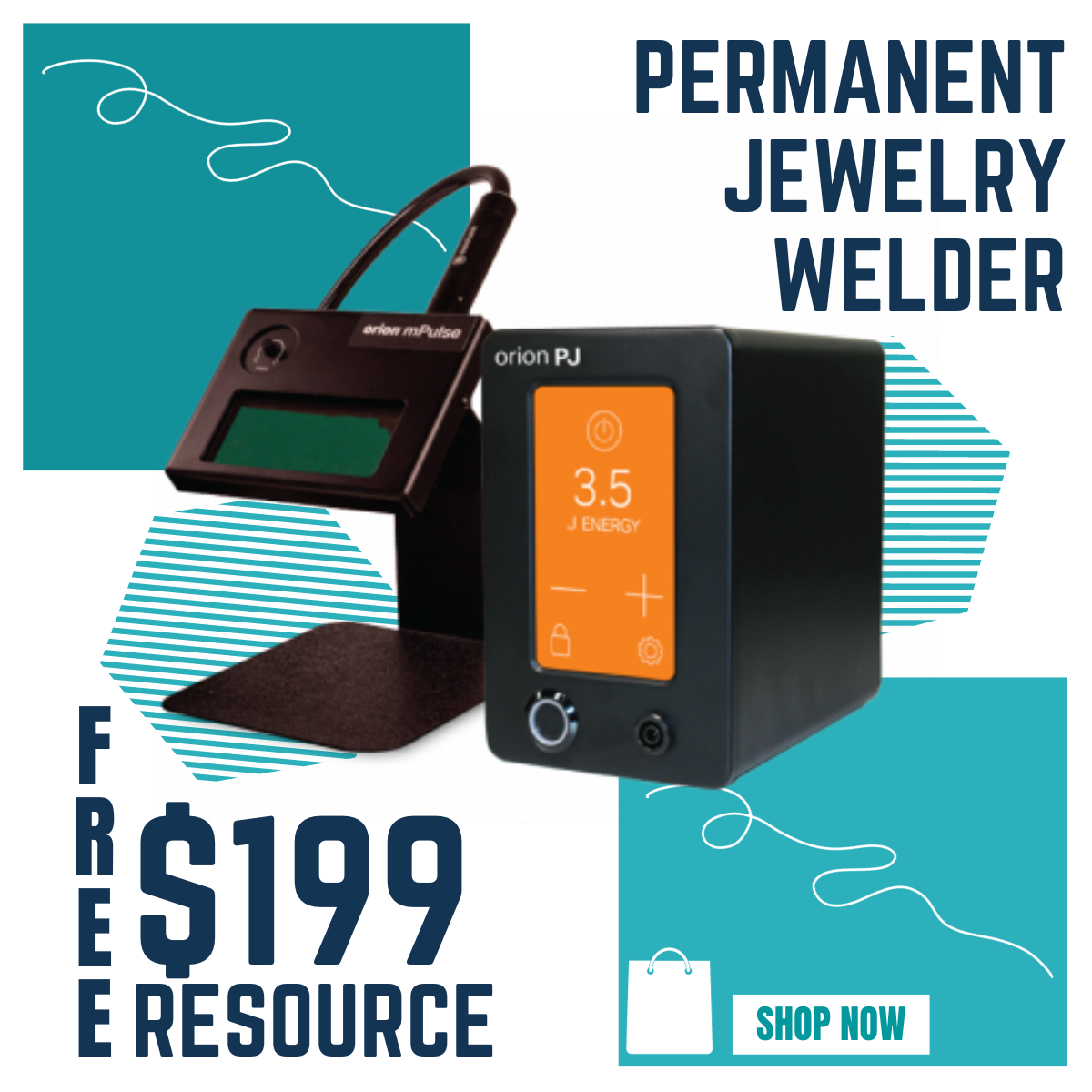 The ONLY Welder Made Specifically for Permanent Jewelry
$2,800 $2,660
Sunstone's Orion PJ Welder offers the best power control for dainty chains in all types of metal.
Sunstone Welders offers additional Orion upgrades that can take your projects to the next level. These do cost extra, but are worth the price if you're serious about your welding projects and can wait for backordered items.
All four upgrades are CE Certified and feature an 11 cm (4.33 in) touchscreen, one weld every 2 seconds, UV eye protection, and 27 energy settings for the perfect weld. Double-check the shipping time frame before ordering, since upgraded models are often on backorder.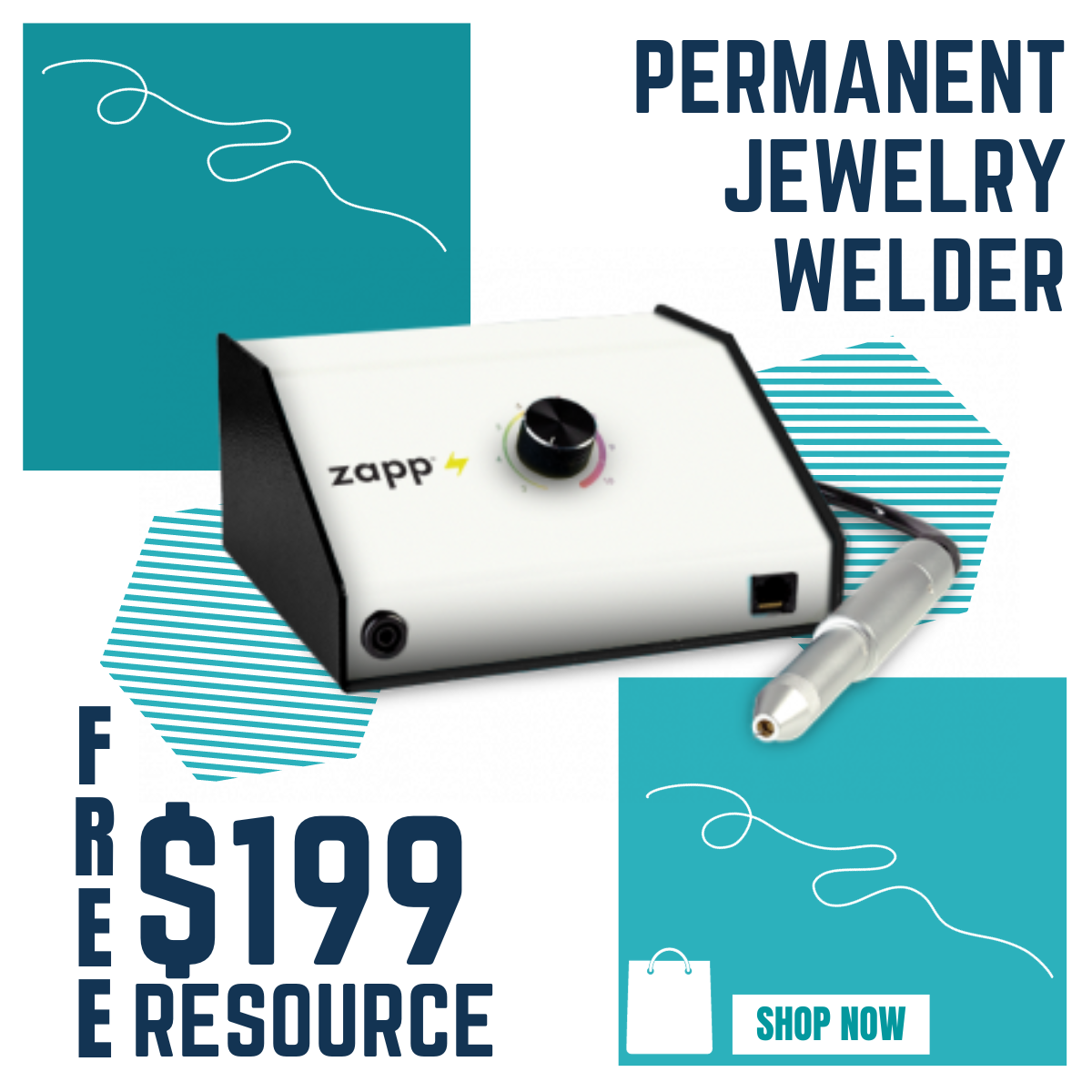 The MOST AFFORDABLE Welder Made Specifically for Permanent Jewelry
$999
Ideal for beginners, the Zapp Welder offers all the essentials for a safe permanent jewelry welding service.
Welder with Basic Auto Darkening Lens (ADL)
Base price (in stock)
The Orion mPulse Welder is the base model and industry standard in permanent jewelry welders. The lens or microscope will automatically darken during welding, to protect the operator from the welding flash while still providing a clear view of the jewelry.
Welder with Upgraded Auto Darkening Lens (ADL)
Additional $200
The Upgraded Auto Darkening Lens provides the same functionality as the ADL, but with a much larger working area to account for shifting, angles, and the distance maintained between the eyes and the weld point. Additionally, you can adjust the positioning of the stylus on the mount.
Welder with Microscope on Articulation Arm
Additional $500
This system includes a microscope with a 5X zoom lens that is perfect for intricate and delicate jewelry pieces. The articulation arm allows welders to move the microscope and stylus in any direction, offering the best view of the workpiece. The machine can be table-mounted using a removable clamp or permanent bolt.
Welder Mounted Above Microscope on Articulation Arm
Additional $600
This option is the same as the above, except it saves space by mounting the welder above the microscope on the articulating arm.
FAQs
It is important to do thorough research and ensure that you have all of the information you need before purchasing a welder. To gain a deeper understanding of the Orion mPulse Welder, check out these frequently asked questions posed by beginners in the permanent jewelry industry.
Does the Orion mPulse 30 come with customer support?
Sunstone Welders offers customer service and technical support to solve any issues welders may have with the machine. The company also provides free troubleshooting advice and video tutorials to help permanent jewelers get the most out of their machines.
Do you need professional training to use the Orion mPulse 30?
The user-friendly Orion mPulse 30 pulse-arc welding system requires minimal training to use. I do recommend that you take a professional training course in order to get the most out of your machine and learn to grow a profitable business in the permanent jewelry field.
[linked-elite sub1="orion-mpulse-30-review"] covers everything you'll need to know, from setup and safety to advanced techniques. This course will give you the knowledge and skills needed to effectively use your Orion mPulse 30 welding system. You will also receive a lifetime discount on supplies purchased from the LINKED supply store.
Overall, while professional training is not legally required to use the Orion mPulse 30 micro-welder, it can help you get the most out of your machine and ensure that you are using it safely and correctly.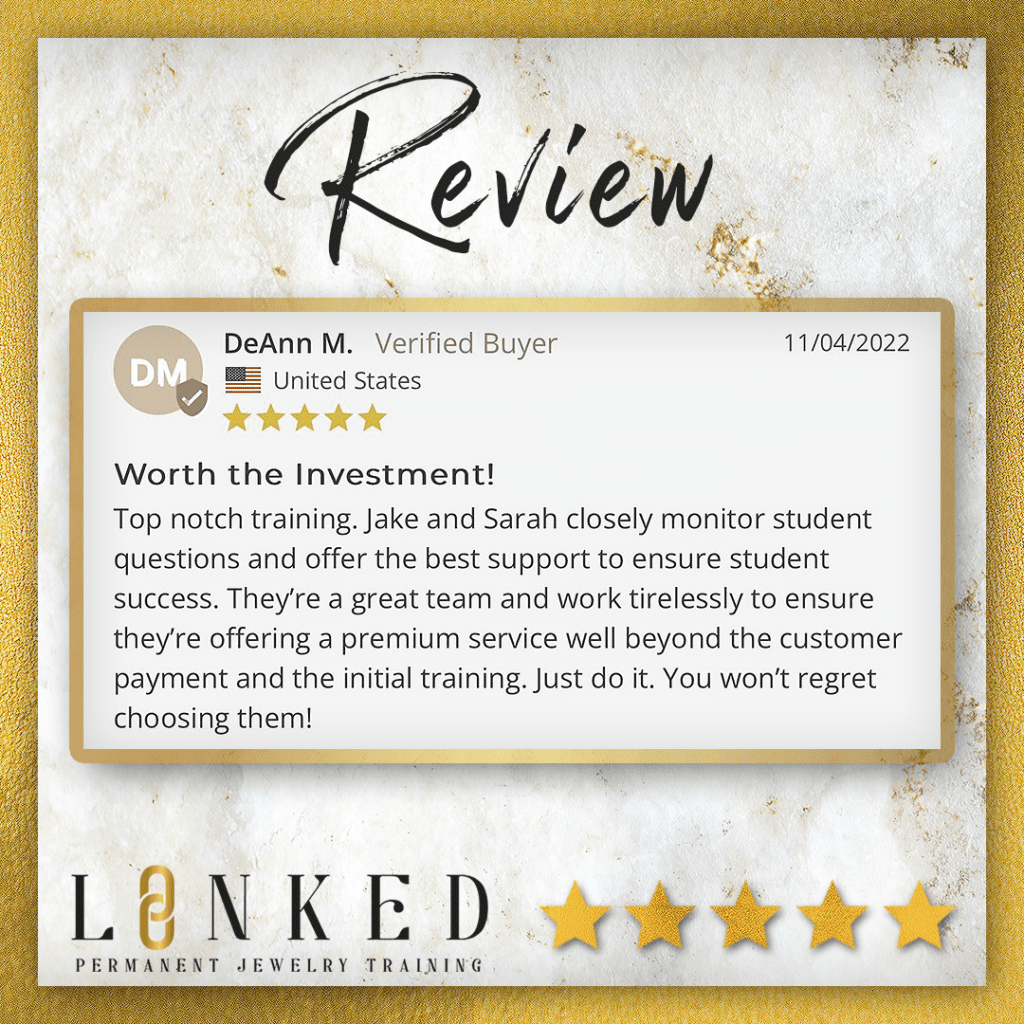 Can I buy a used Orion mPulse 30 micro jewelry welder to save money?
It is possible to save money by purchasing a used Orion mPulse 30 welder, but keep the following factors in mind when making your decision:
Source: Purchase your welder from a reputable seller or platform, like eBay or a trusted local dealer. Check the supplier's ratings and read reviews from previous buyers to make sure that the seller is trustworthy.
Condition: Verify the condition of the machine before purchasing it, and if possible, request a demonstration to ensure it is functioning properly. Ask the seller about any repairs or maintenance that have been performed on the machine.
Warranty: Purchasing a used machine may mean that it no longer has a manufacturer's warranty. Ask if there is any remaining warranty on the machine, and if it can be transferred to you as the new owner.
Accessories: Check that all necessary accessories – like cables, a stylus, and electrodes – are included with your purchase.
Price: Compare the price of the used machine with the price of a new one to make sure you're actually getting a good deal.
Considering all of these factors can help you make an informed decision when purchasing a used Orion mPulse 30 Micro Jewelry Welder.
What is argon gas and do you need it to weld permanent jewelry?
Argon gas is a colorless, odorless, tasteless noble gas that is chemically inert, meaning it does not react with other substances. Due to its ability to prevent oxidation and protect the weld from contaminants, it is often used as a shielding gas in various welding processes.
This gas can be beneficial in the jewelry-welding process, particularly when the welder is using pulse arc or TIG welding methods. The argon gas creates an inert atmosphere around the weld area, preventing the metals from oxidation and contamination. This results in cleaner and stronger welds, which are essential in the creation of high-quality, durable jewelry pieces.
While argon gas can significantly improve your welding quality, it is not always necessary in the jewelry-welding process. Simpler welding techniques like soldering may not require the use of argon gas, but if you're using a pulse arc or TIG welder (like the Orion mPulse 30), incorporating argon gas into your welding process will help you achieve the best results.
Ready to become a LINKED certified permanent jewelry welder? Use the discount code TRINITYTPAHP at checkout to get $100 off!
Is the Orion mPulse 30 the Best Welder for Permanent Jewelry?
The Orion mPulse Welder is a versatile, user-friendly pulse arc welder that offers a wide range of features, making it an excellent choice for permanent jewelry artists. Its ability to work with various materials like gold, silver, platinum, palladium, titanium, and stainless steel allows jewelers to cater to diverse customer preferences and expand their product offerings. Its compact size and ease of use make it an accessible tool for both beginners and experienced professionals, ensuring precise, high-quality welds.
It is still important to consider factors like price, space requirements, and your business's specific needs when deciding if the Orion mPulse 30 is right for you. If its advantages align with your business objectives and its cost fits within your budget, the Orion mPulse 30 can be a valuable asset to your permanent jewelry business, contributing to growth and success in the long run.
If you're still not sure that you can cover the cost, or if other micro welders better suit your needs, evaluate market alternatives before making a final decision. The Orion mPulse Welder is the best permanent jewelry welder on the market, but choosing whether or not to make that purchase will depend on your unique situation and priorities.