Can You Do Permanent Jewelry Without a Welder?
We foster relationships with brands we use and trust. The testimonials on our site represent real experiences, but they don't guarantee you'll achieve similar results. When you make purchases through our links to our partners, we may earn a commission. Your support helps us continue this work. You can read our full disclosure here.
Permanent jewelry is undeniably the newest "it" accessory. As with any other popular trend, it has unfortunately become inundated with its fair share of knockoffs– including sellers who claim to offer "no-weld" services.
This has led to many people questioning whether a welder is actually a necessity in the permanent jewelry industry. Despite claims to the contrary, a welding machine is definitely a requirement for anyone wanting to perform authentic permanent jewelry services.
The premise behind permanent jewelry is to eliminate the need for a clasp on the bracelets, anklets, or necklaces that you've created at custom lengths for your customers. The jewelry artist instead uses a jump ring that is welded closed. To accomplish this end, you need to use a permanent jewelry welder.
The sellers who promise "no-weld" permanent jewelry aren't actually offering the same thing at all. They're simply trying to jump on the popularity of permanent jewelry without investing in a welder. This machine is needed to create a smooth, flawless finish for each customer.
If you want to get started in the permanent jewelry business, you will need to plan ahead to invest in the right welder for you. Read on to find out what type of machine you will need to purchase in order to run a successful business, and find out where you can obtain a welder that will be trustworthy and perform top-quality welds.
Ready to become a LINKED certified permanent jewelry welder? Use the discount code TRINITYTPAHP at checkout to get $100 off!
What Kind of Welder is Needed for Permanent Jewelry?
Pulse arc welders are used across the board in the forever jewelry field. These work with just a spark and with no actual heat or soldering. This type of device provides artists with a safe way to perform services for their customers, because they aren't actually using heat near the skin when welding their necklaces, bracelets, or anklets.
A pulse arc welder uses electricity to create the single spark. The resulting plasma discharge melts the metal jump rings in a tiny spot to close the ends together. It can't be done safely any other way, which is why a pulse arc welder is necessary for your permanent jewelry business.
Related: Best All-Inclusive Permanent Jewelry Starter Kits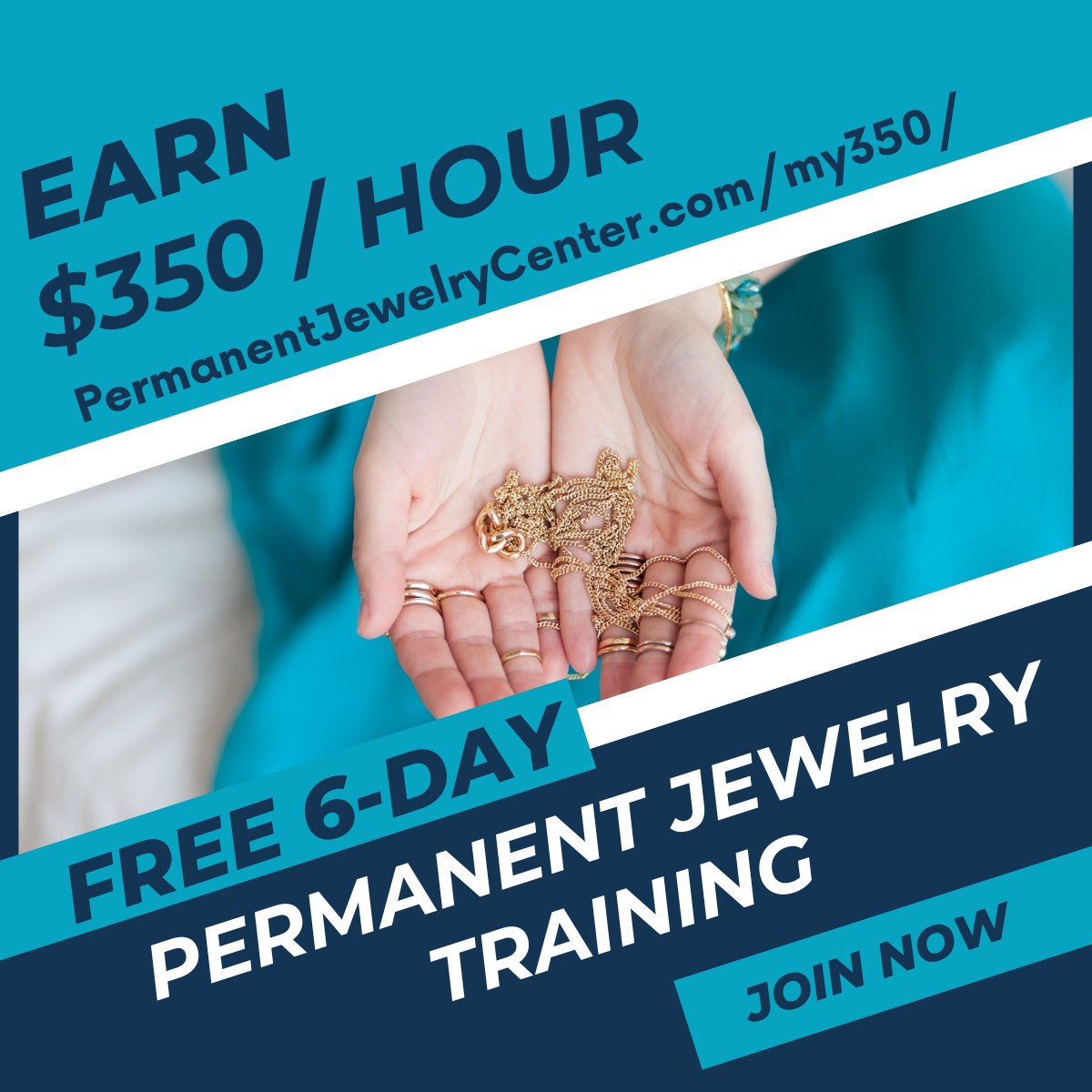 Where to Buy a Permanent Jewelry Welder
There are many options when it comes to finding the right welder for your business. Some of the best permanent jewelry welders are listed below, and you can purchase most of them from our Permanent Jewelry Center shop.
Sunstone Welders
If you are ready to dive into forever jewelry, check out the welder options available from Sunstone Welders, including the Orion PJ Welder, the Orion mPulse Welder, and even the Zapp Welder. Sunstone Welders has partnered with several well-known organizations – like NASA, Lockheed Martin, Ford, and Tesla – to provide the best welding machines on the market. We are thrilled to be an official dealer of Sunstone's line of permanent jewelry welders!
Related: Orion mPulse Review: Best Permanent Jewelry Welder?
Pepetools Welder
The Helix Welder by Pepetools is one of the newest offers on the market. It offers all of the features you need to create seamless welds on chains ranging in size and metal. The machine is small and lightweight, which makes it perfect for a mobile business, like permanent jewelry. Plus, it has adjustable power settings so you can get just the right level of spark for each job. With superior quality and affordability, this machine is a great choice for any permanent jewelry artist.
LINKED's welder and Training
LINKED Permanent Jewelry Training is the perfect option for anyone who is new to the business and wants the whole training package, certificate of completion, welder, and starter kit. This is one of the top permanent jewelry training programs available online, and offers multiple package options that come with the welder.
This program not only teaches you how to weld permanent jewelry, but also how to run your business. LINKED Permanent Jewelry Training has many lessons and resources available to assist you in building your business from the ground up. The best part is, this program can be completed online at your own pace.
In addition to welding training, you will learn how to promote your new business with effective marketing tactics. LINKED Permanent Jewelry Training also provides students with a library of professional photography, so beginners can start promoting their content right away.
Related: LINKED Permanent Jewelry Training Review
Permanent Jewelry Welder FAQs
Check out the following answers to some of the many questions new permanent jewelry artists are asking when it comes to welders.
How much does a permanent jewelry welder cost?
The cost of starting a permanent jewelry business will vary, depending on where you purchase your welder. The type of welder you want to own will also be a determining factor in the price.
For example, the Zapp Welder is $999 and the Orion PJ Welder starts at $2,800. The details of the machine you choose will determine its final cost. Thankfully, payment plans are available to help with the financial end of the deal.
Compare the prices and features of each welder to help you choose the right one for your budget.
Is it hard to use a permanent jewelry welder?
It can be difficult to attempt to weld permanent jewelry if you don't know how to use a welder and have no previous knowledge or experience. Obtaining the right training on how to use your welder will make all the difference. The key is to learn from someone who is experienced, and practice your new skill.
The LINKED Permanent Jewelry Training program was designed to make permanent jewelry welding a breeze. It covers machine settings, safety, and welding techniques so that you can confidently perform permanent jewelry welding and repair projects with ease. This is an invaluable resource for anyone who is interested in learning how to get started.
Is a permanent jewelry welder dangerous to use?
Welders that were created specifically for welding permanent jewelry are completely safe. They use electricity instead of heat, protecting both you and your customers. Don't use just any welder; select a pulse-arc welder that was designed specifically for your type of business.
Related: Sunstone's Zapp Permanent Jewelry Welder Review
You Need a Welder For a Permanent Jewelry Business
The bottom line is, you must have a permanent jewelry welder for your business in order to perform forever jewelry services. The rumors that you don't need a welder are simply untrue and won't lead to success with your customers. Your clients trust that you will create flawless, custom pieces for them; your welder will help you do exactly that.
Invest in a high-quality permanent jewelry welder or receive a machine when you purchase the training program through LINKED Permanent Jewelry Training. There are many options to consider when it comes to choosing the right welder for your business. Get your new venture off on the right foot by investing in the best tools, materials, and training program.