LINKED Permanent Jewelry Training Review: Is It Trustworthy?
We foster relationships with brands we use and trust. The testimonials on our site represent real experiences, but they don't guarantee you'll achieve similar results. When you make purchases through our links to our partners, we may earn a commission. Your support helps us continue this work. You can read our full disclosure here.
I officially fell in love with permanent jewelry when I came across a fellow mom who had set up her pop-up tent at a local fair. I immediately began researching the process of becoming a permanent jeweler and set myself the task of finding the best online course I'd need to take in order to get started. As I checked out the various options available, LINKED Permanent Jewelry Training quickly stood out to me. I'm excited to share my experience with you about this course and what it offers to its students!
Permanent jewelry has become a hot commodity within the beauty industry, where it has joined such trends as brow microblading and eyelash extensions. Jewelers weld a custom bracelet, anklet, or necklace onto a person to provide a flawless, beautiful finish to their accessory. If you are interested in becoming a jewelry welder, then allow my personal review of LINKED Permanent Jewelry Training to show you why you should consider this course to help you kick-start your new career.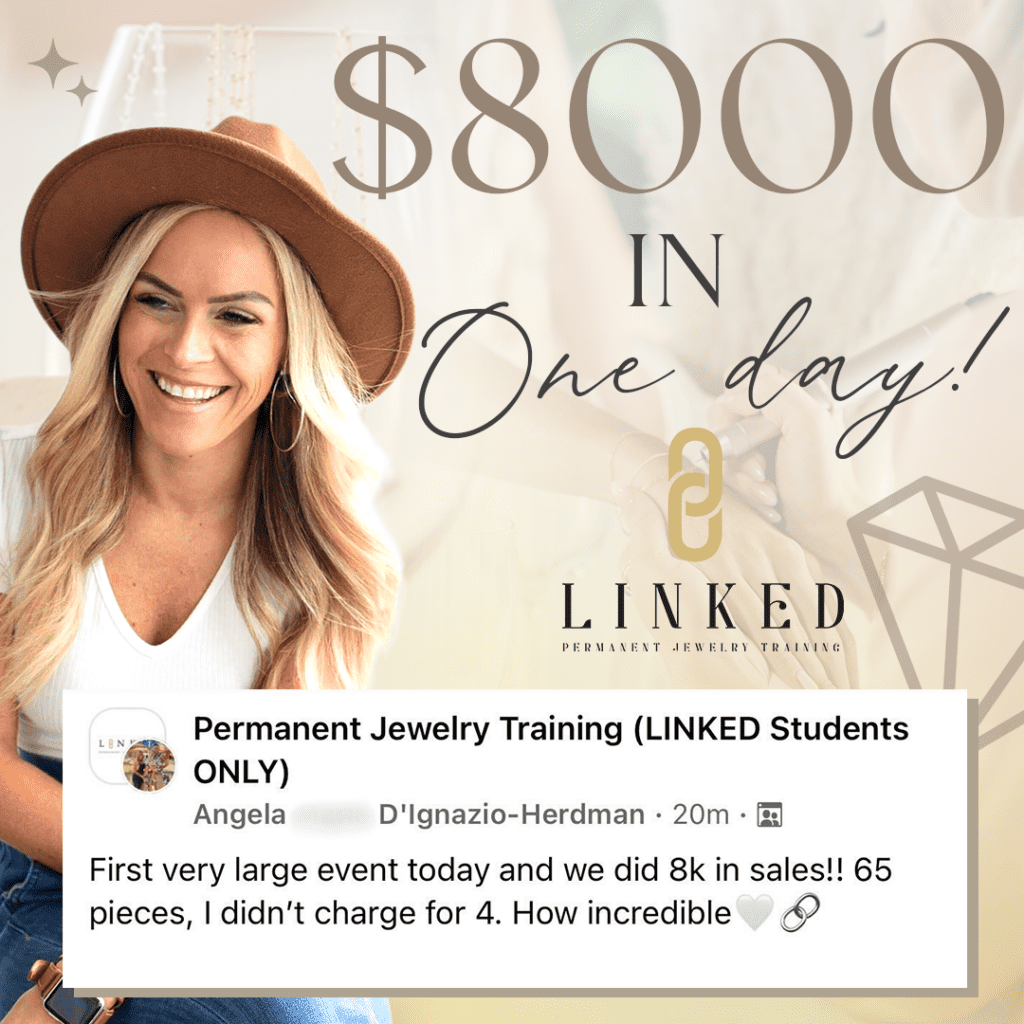 A permanent jewelry business will give you an outlet to be creative, make extra money, or just try something new. But it will take more than picking up any old welding machine and a handful of chains. The best course of action is to take a class from a reputable business that can teach the ins and outs of the profession.
Read through my LINKED Permanent Jewelry Training review to find out what the course has to offer, what students have to say about their experiences, the pros and cons, and how to enroll. This will help you determine if it is the right course for you.
LINKED Permanent Jewelry Training Summary
LINKED Permanent Jewelry Training teaches students the art of arc welding and provides a wealth of knowledge about metals. Tuition options can include an actual welding machine, so you won't have to worry about purchasing this kit after finishing the course and preparing to start your business.
I chose the base package to start my permanent jewelry business, and in time I plan to expand to a more expensive welder if needed. As of now, the unbranded welder that came in my kit is both cost-effective and provides high quality welds–which is all I needed to launch my business.
The course's comprehensive curriculum includes instructions about using the machine, plus information on customer experience best practices that will encourage your clients to return to you for their future accessory needs.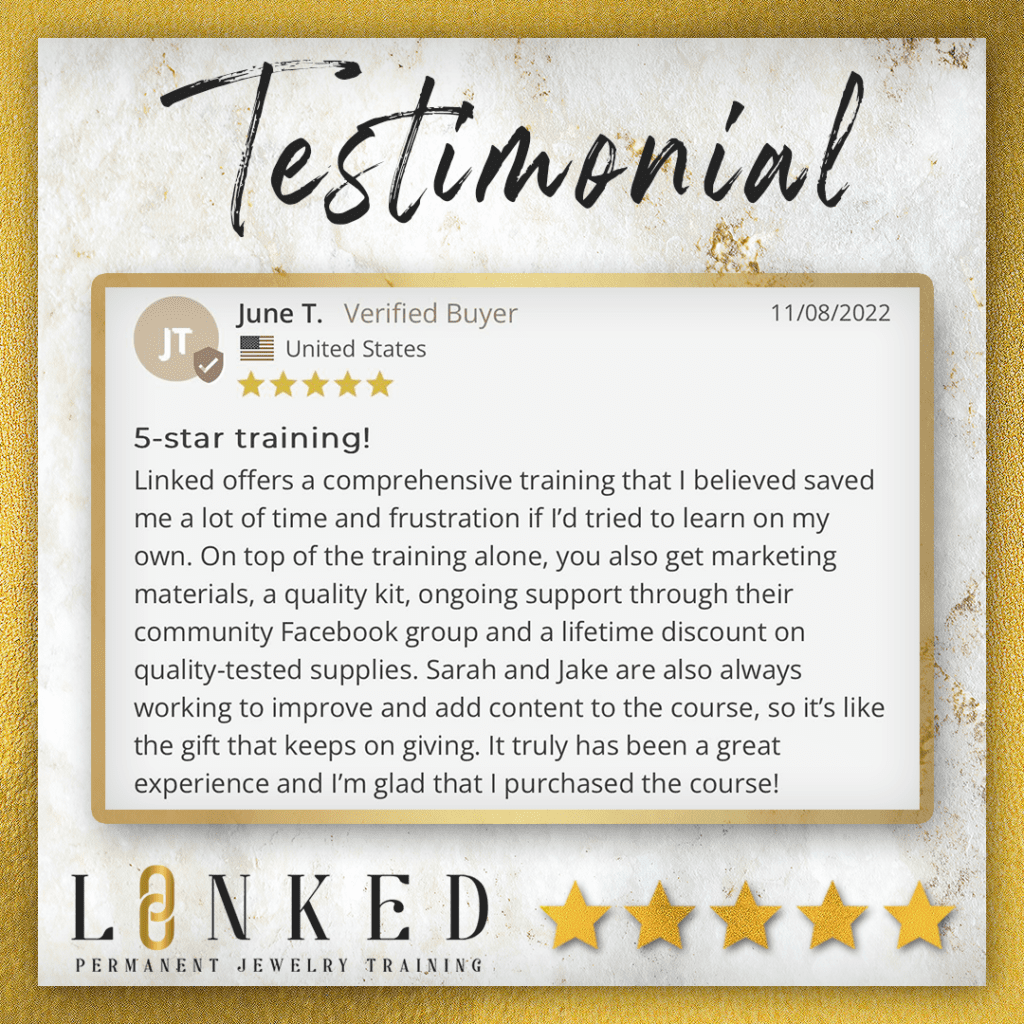 LINKED Permanent Jewelry Training Review Pros
LINKED Permanent Jewelry Training is fully online
Multiple payment options are available
Ongoing supply discounts are provided to all students and graduates
Participants receive Facebook group support
Students have lifetime access to the course
The class can be completed at your own pace
Professional marketing materials are included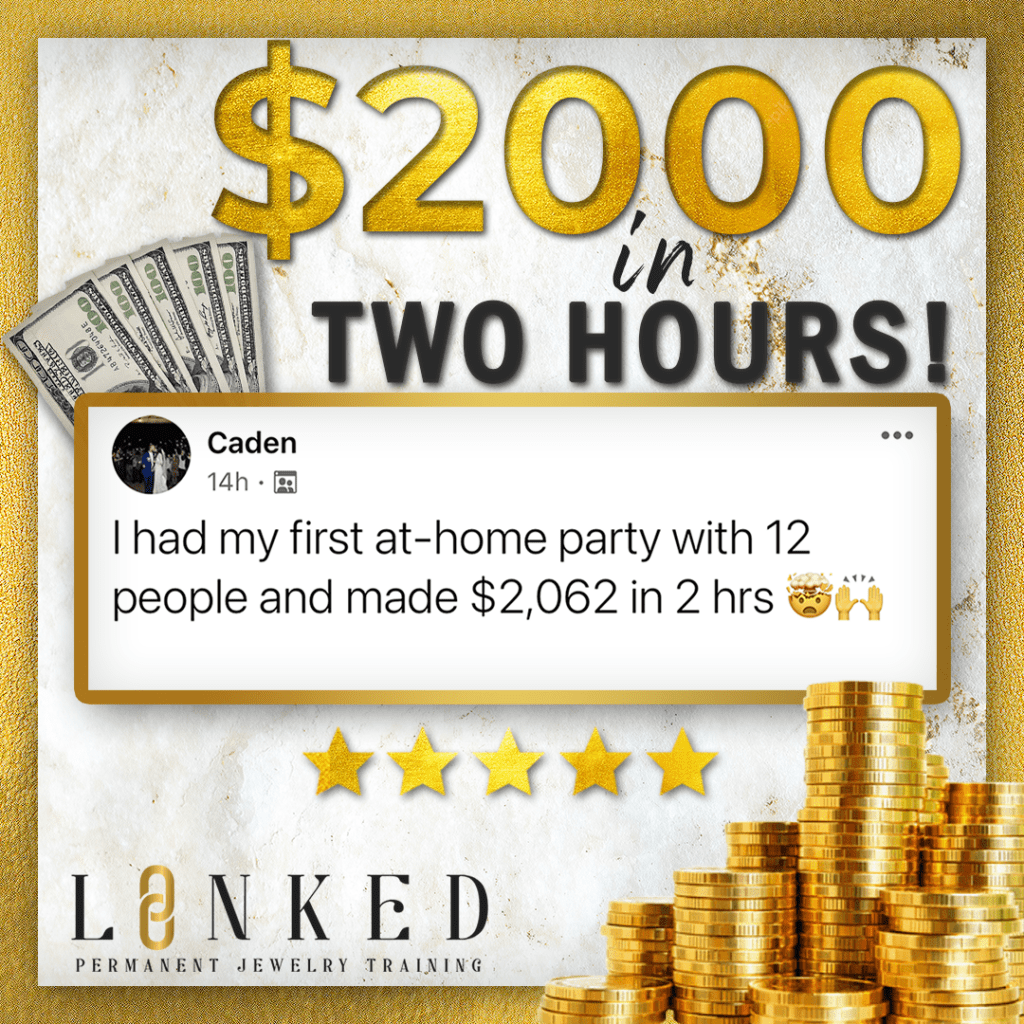 LINKED Permanent Jewelry Training Review Cons
The price is moderately high
Not all course options offer the welding machine
This class is not available in all countries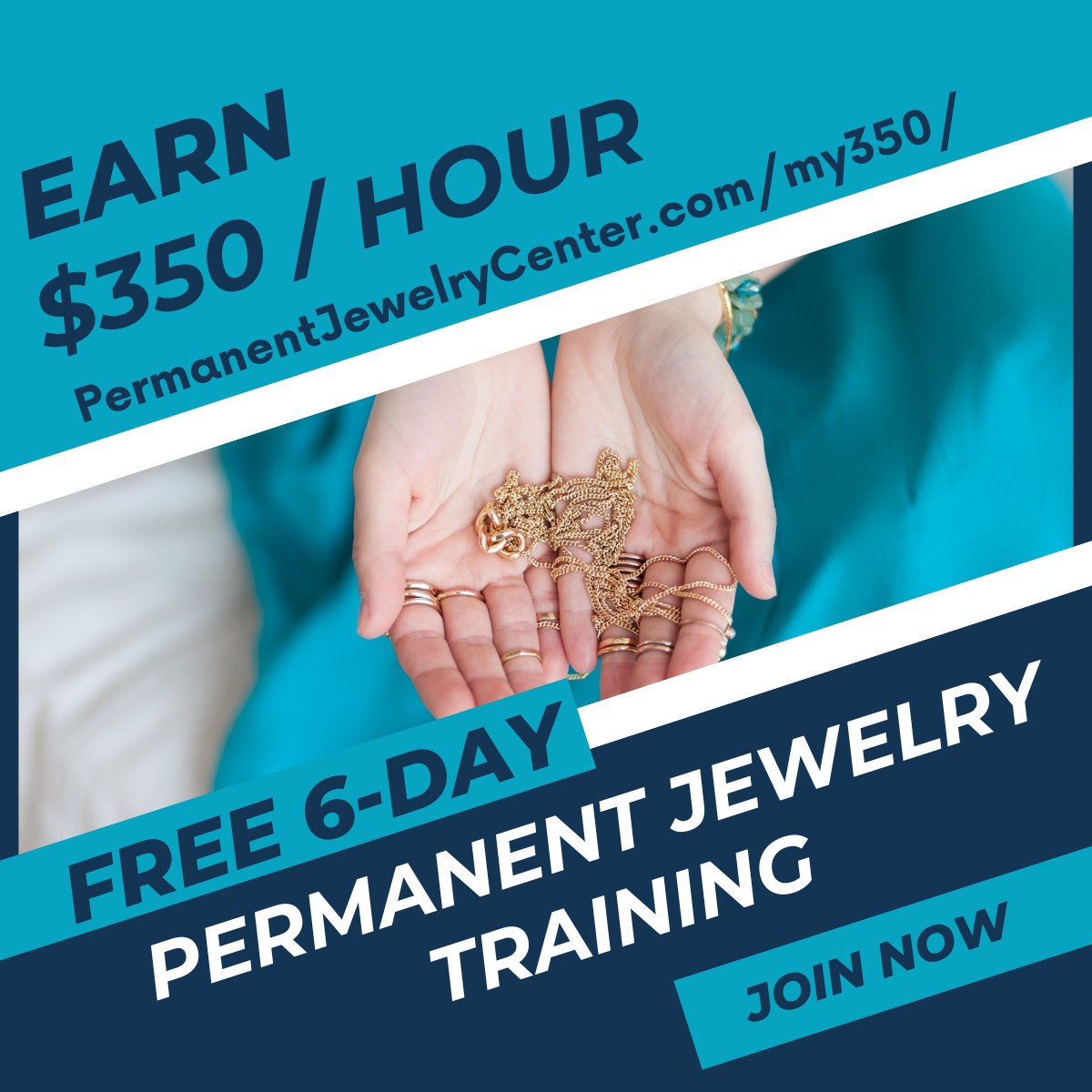 LINKED Permanent Jewelry Training Reviews
LINKED Permanent Jewelry Training is a proven top choice in the field, and many online reviews praise the course, its training videos, and its troubleshooting techniques. It's clear from these reviewers, and from my personal experience, that the course is detailed, fun, and interactive.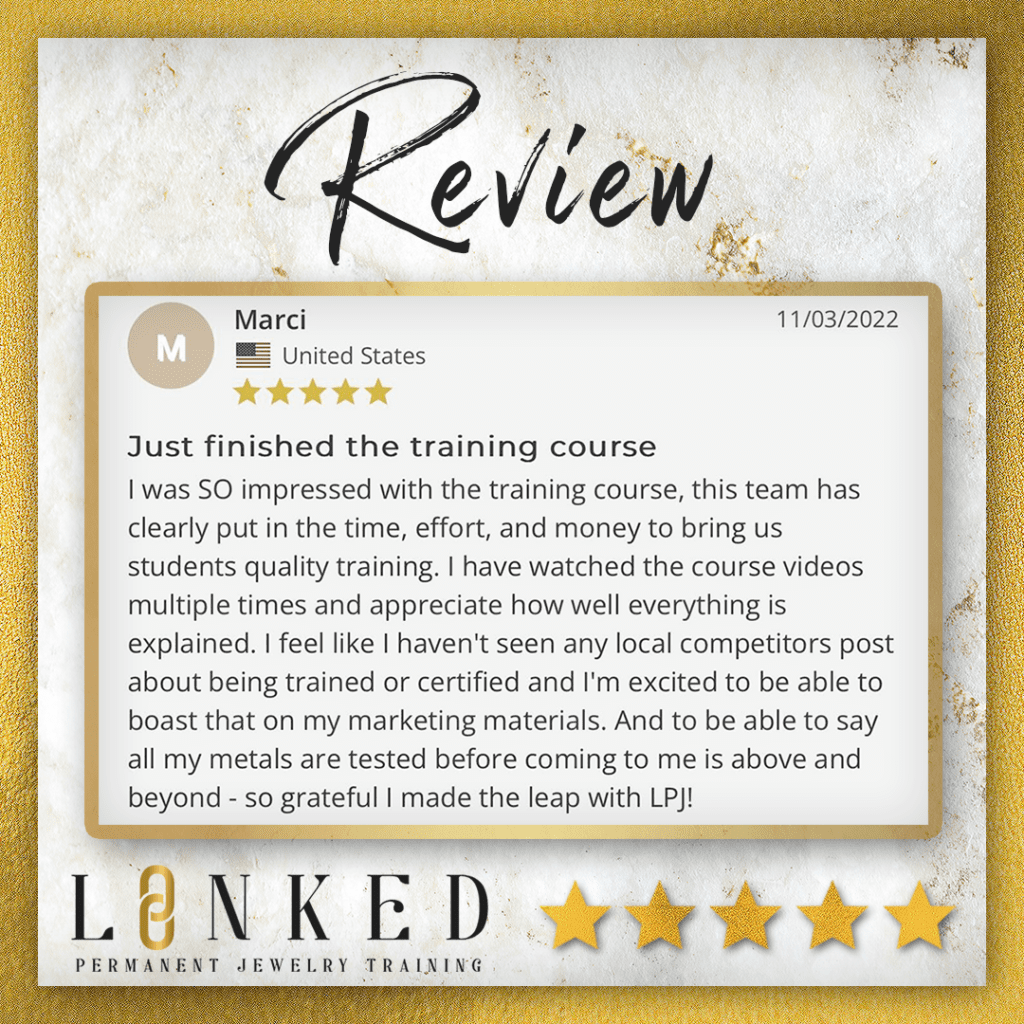 Former LINKED Permanent Jewelry Training students have also enthused about the money they've been able to make in just a short time after taking the course. Your upfront investment will more than pay for itself within approximately four hours of work.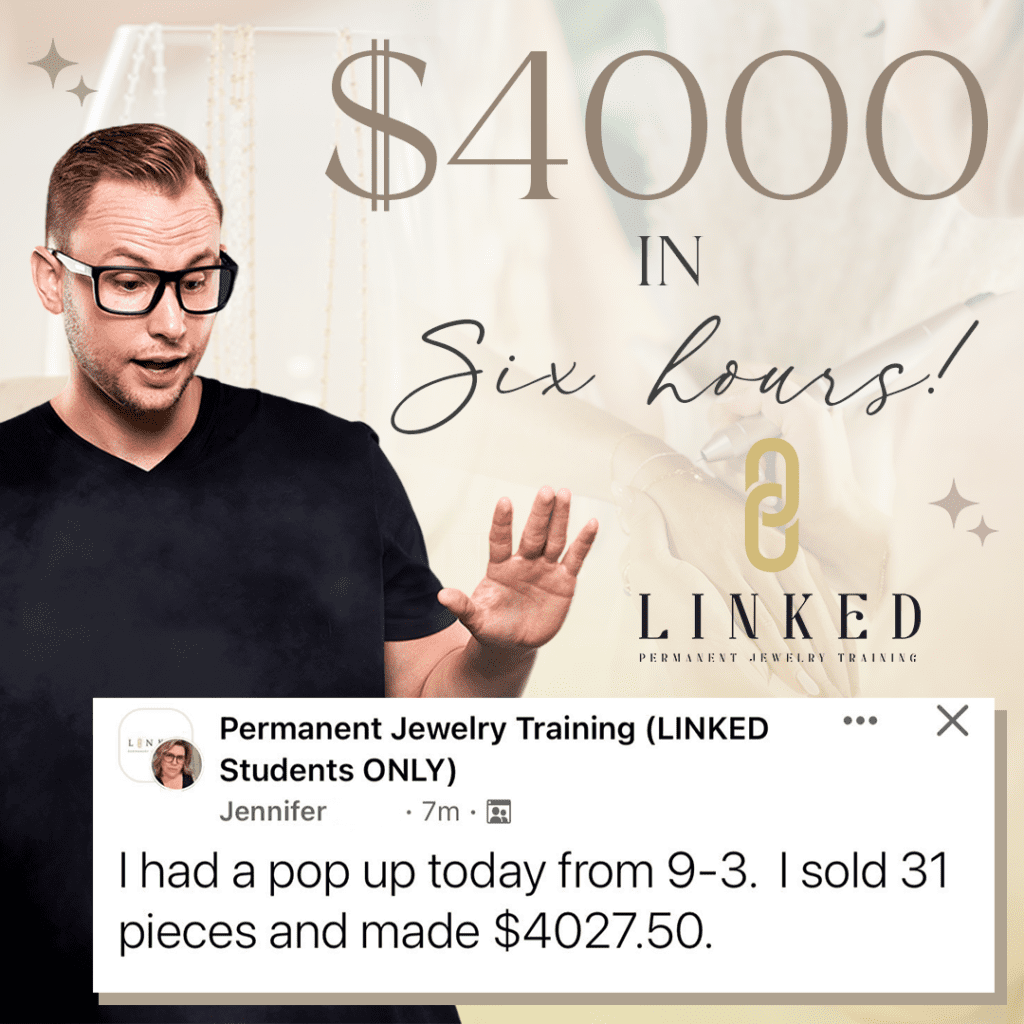 Testimonials from former students also mentioned the overwhelming support they received from the founders of LINKED Permanent Jewelry Training.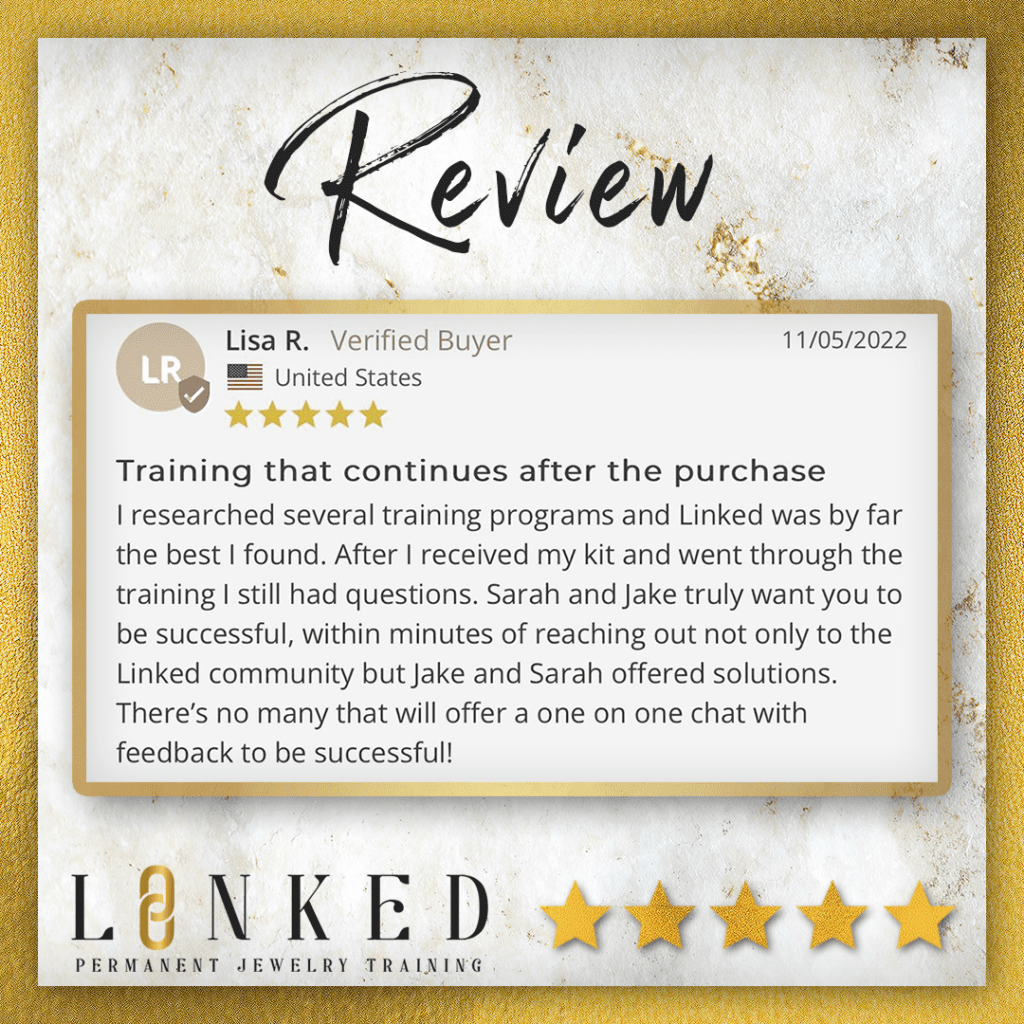 The reviewers also raved about the encouragement they received from within the private Facebook community that is available specifically for students. As soon as I joined the exclusive group as a LINKED student, I was impressed with the helpful responses from experienced professionals, including Sarah herself.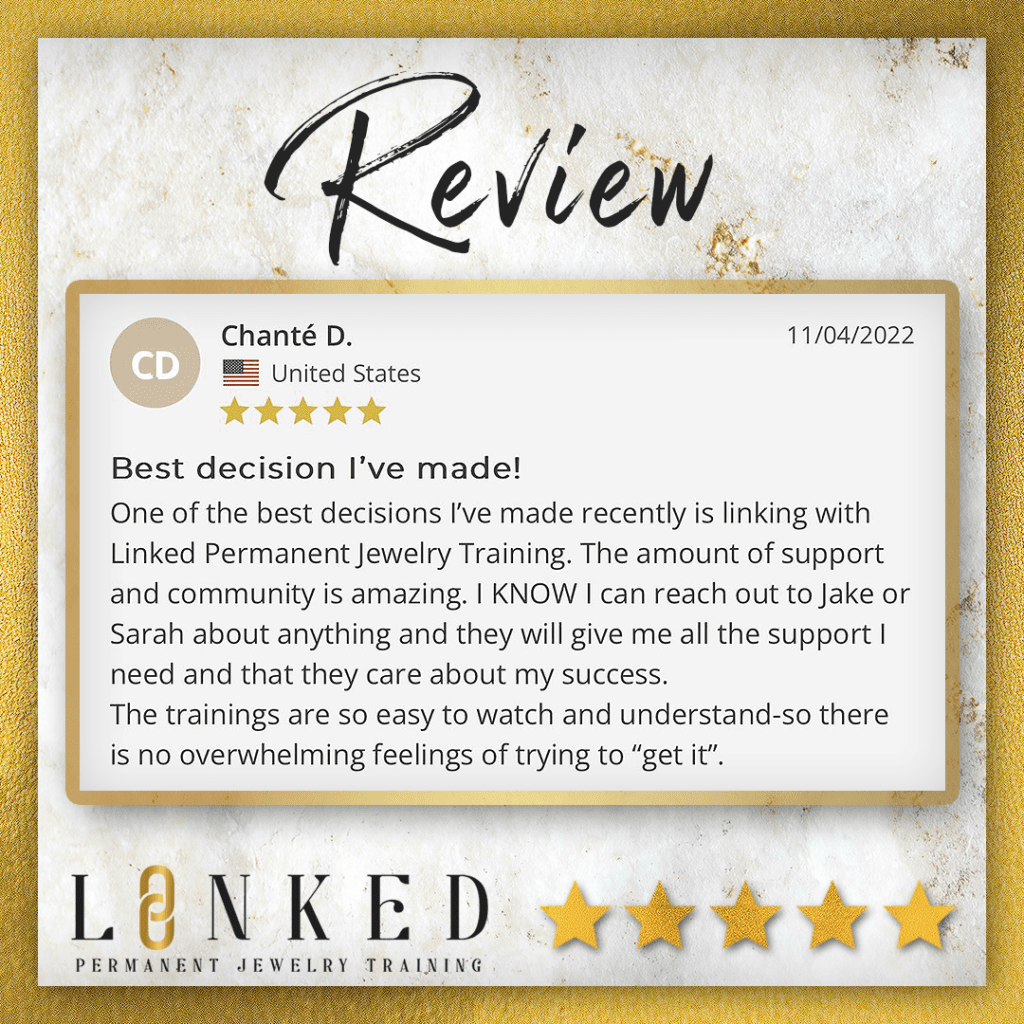 What is LINKED Permanent Jewelry Training & How Does It Work?
LINKED Permanent Jewelry Training offers a new way to make extra money by teaching its students how to weld chains onto their customers. The course offers marketing strategies for jewelry artists, step-by-step guides to starting a new business, and personal support. It's proven to be one of the best permanent jewelry training courses on the market.
Review Package Options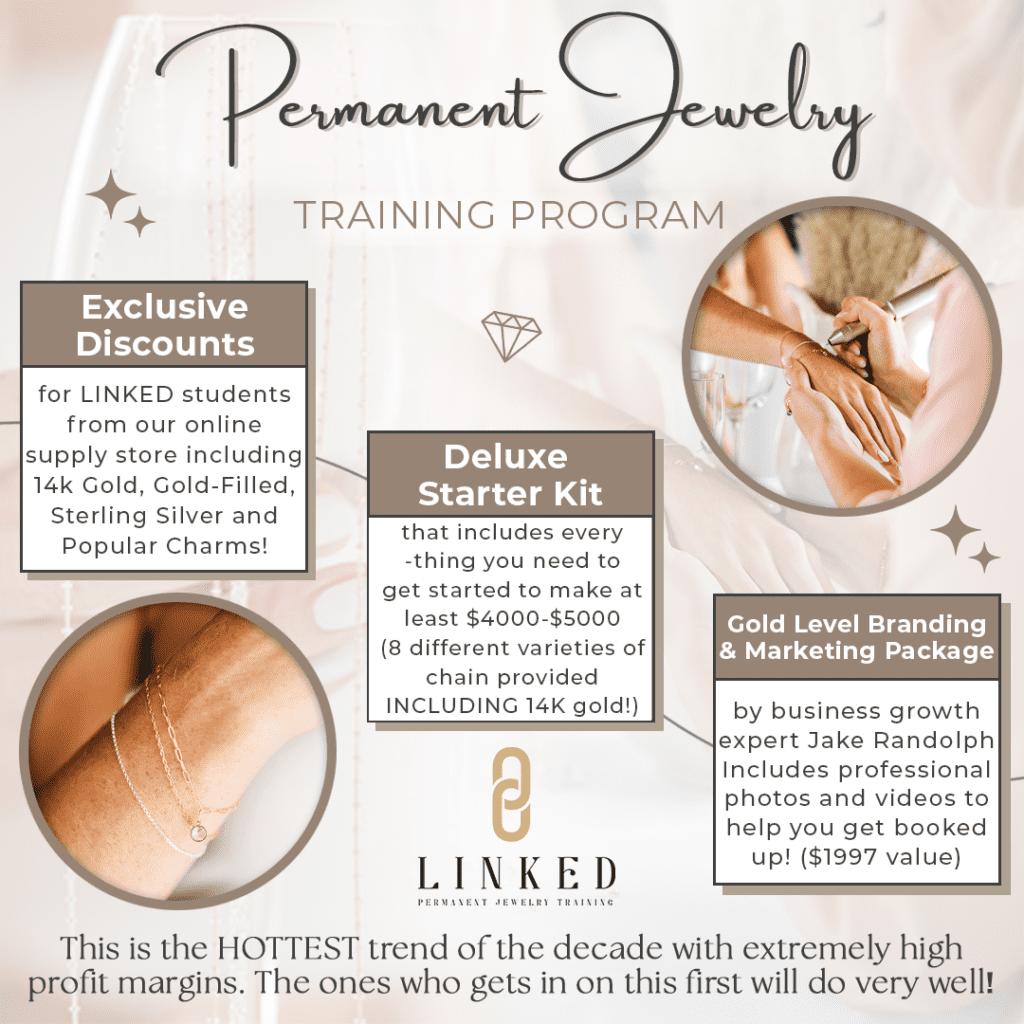 LINKED Permanent Jewelry Training offers a variety of package options, which vary in price. Pick one of the following options that best fits your needs and budget:
Deluxe Machine (Pulse Arc Welder) Training Package:
This all-inclusive package offers a permanent jewelry training kit with welding components, plus all marketing materials you will need to start your business. This option comes with a basic pulse arc welder and stylist.
You have the opportunity to upgrade from the Deluxe Machine to the superior Orion mPulse 30 within a year. The price adjustment is so significant, it's as though you never purchased the basic machine in the first place. Plus, the best part is, you can retain your basic machine as a backup, ensuring you're always prepared.
You will also receive downloadable workbooks to help you retain knowledge of the business and keep track of your progress while you make your way through the course.
Ready to become a LINKED certified permanent jewelry welder? Use the discount code TRINITYTPAHP at checkout to get $100 off!
ZAPP Training Package:
Small, yet mighty, the newly launched ZAPP welder offers an affordable mid-range solution for dedicated permanent jewelry artists. This latest offering from Sunstone Welders not only upholds their reputation as a trusted brand but also presents a viable option for those venturing into this high-investment startup business. In this training package, the ZAPP is accompanied by everything needed to start service permanent jewelry customers right away.
Orion mPulse 30 Training Package:
This option includes everything you'll need to start your own successful permanent jewelry business, including access to all of the course materials, training videos, and the support community. This option comes includes the Orion mPulse welding machine, which has been highly touted as the industry standard.
Orion PJ Training Package:
This option includes everything in each of the previously mentioned packages, except the welder is even more tailored to the service. The Orion PJ is specifically designed for permanent jewelry welding, and it offers more control over power levels for the best possible welds in the industry.
Ready to become a LINKED certified permanent jewelry welder? Use the discount code TRINITYTPAHP at checkout to get $100 off!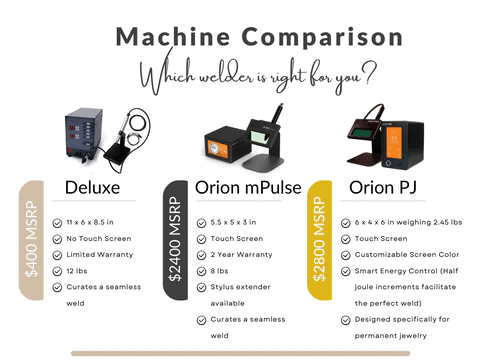 Select "Enroll Now"
Once you've decided which LINKED Permanent Jewelry Training package is right for you, checkout using the discount code TRINITYTPAHP for the best price. You will then be asked for your personal information and be able to add your chosen package to cart. Providing your name, email, and address will allow LINKED to give you access to the course and send you your machine (if applicable) and receipt of enrollment.
Gain Access
After your payment has cleared, you will immediately gain access to the course, including videos, training materials, and the private Facebook community. Take the course on your own time to learn about all there is to know about permanent jewelry and making this career into a successful business.
Wait for Your Machine & Kit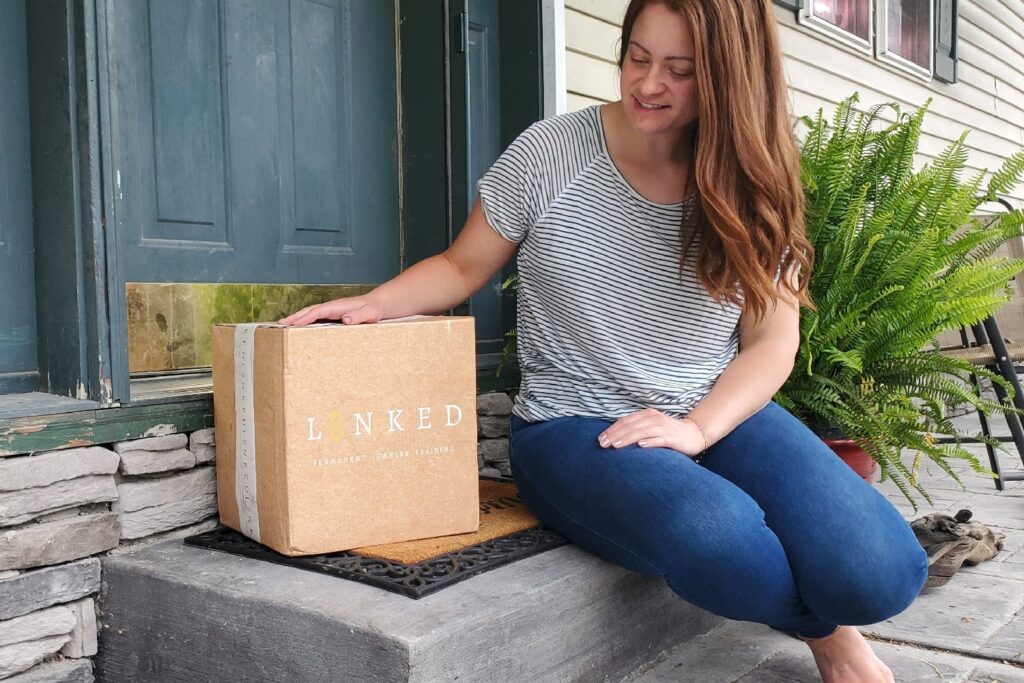 When I ordered my kit late on a Thursday evening, it arrived early the following Monday afternoon. It was incredibly quick, even though I chose the cheapest shipment option.
Once you receive your kit, you will be able to start practicing right away. While you're waiting, begin the course materials and get engaged with the community to start learning even before your machine arrives.
Start Seeing Customers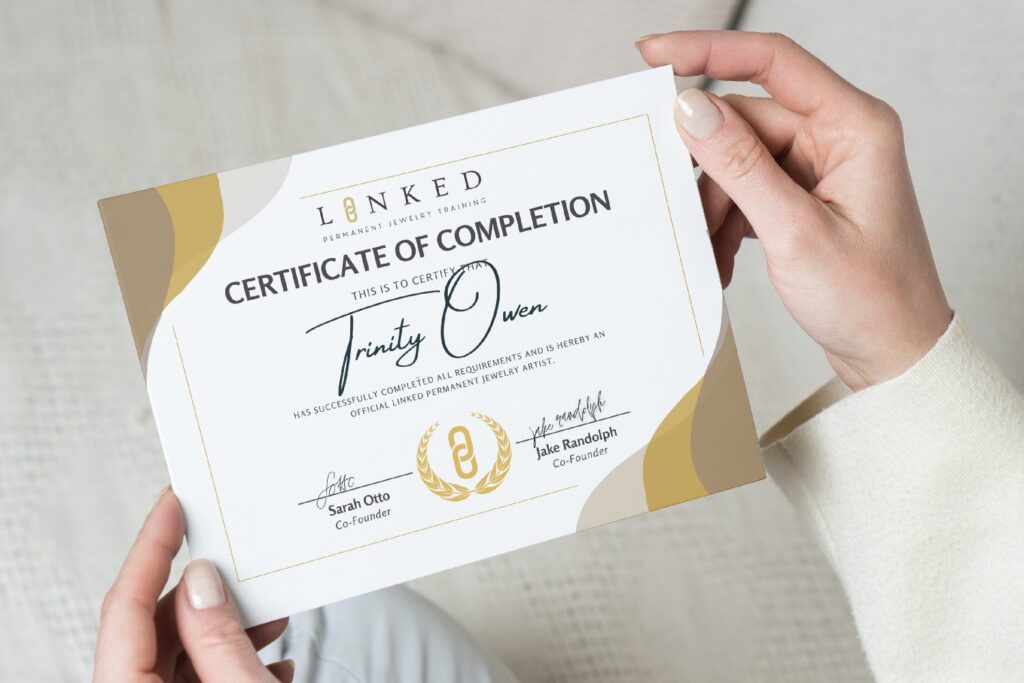 Once you've taken the course and received your certificate of completion, you can begin servicing clients and earning money. According to LINKED, you could make $2,100 in just four hours of work by seeing 20 customers in one day at 15 minutes per session. Advertise your services and book parties and events so customers can come to you for their beauty and accessory needs.
LINKED Permanent Jewelry Training Q&As
To gain confidence in your purchase of this course, check out these commonly asked questions about the LINKED Permanent Jewelry Training.
Who owns LINKED Permanent Jewelry Training?
Sarah Otto and Jake Randolph founded LINKED. Sarah has been involved in the beauty industry for more than five years, has10+ years of welding experience, and became a permanent jewelry welder more than a year ago. Jake has successfully marketed beauty services on behalf of his many different clients for more than five years. Together, they bring a wealth of experience in providing permanent jewelry services and marketing them to the right audience.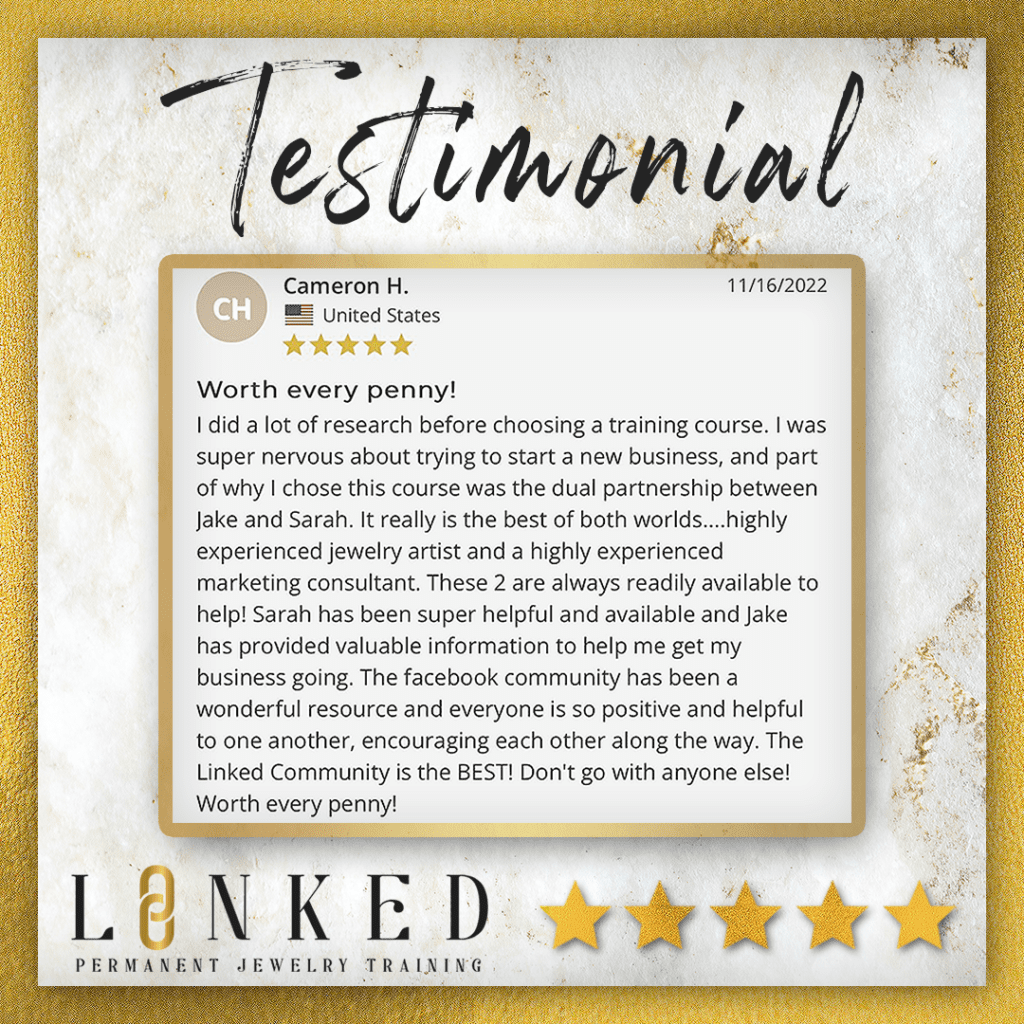 Sarah was recently featured on CW 39 Houston, a large news station in Texas. She performed permanent jewelry services on air and explained the ins and outs of this business on live TV, increasing awareness of what a permanent jewelry business can offer to entrepreneurs.
Jake owns PMU Marketer, a permanent makeup marketing company that has become a great asset to many permanent makeup companies including Girlz Inc. He has helped more than 100 permanent makeup and microblading artists around the world fill their calendars with eager clients.
Does LINKED Permanent Jewelry Training offer financing options?
LINKED currently partners with Affirm for financing options, but according to Sarah and Jake, if you cannot get approved through Affirm, text the number listed on their site for private financing options and plans that might be better suited for your financial needs.
Is LINKED Permanent Jewelry Training worth it?
After purchasing the course myself, I believe it's completely worth it for beginners. Other reviews indicate that LINKED is the obvious choice for anyone who is thinking about becoming involved in this growing industry.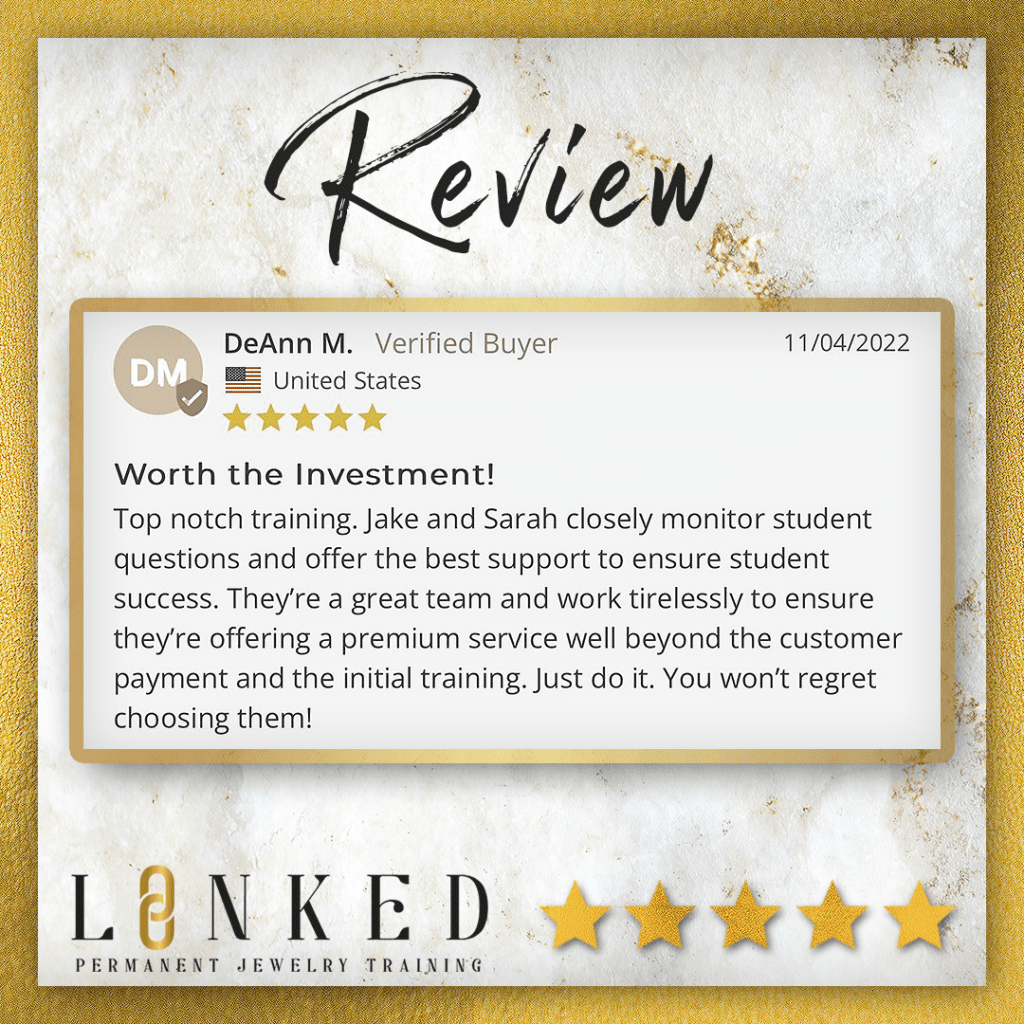 How long does it take to complete LINKED Permanent Jewelry Training?
The actual video course is three hours long and broken into bite-sized pieces to cover all aspects of the process. Bonus videos are frequently uploaded as well. You will need to finish the initial three-hour video training and perform three successful welds to complete the course and receive your certificate, but you can watch it on your own time and take as long as you need. You will also need to practice your new skill before you begin servicing customers.
Do you need experience with welding to become a permanent jewelry artist?
According to LINKED, you do not need any prior welding experience, because the course demonstrates proper welding techniques and provides troubleshooting videos that will help you service your machine.
You won't be left to figure out the welding on your own. The beauty of this training course is that you can learn everything from scratch from professionals who are already making this business a success.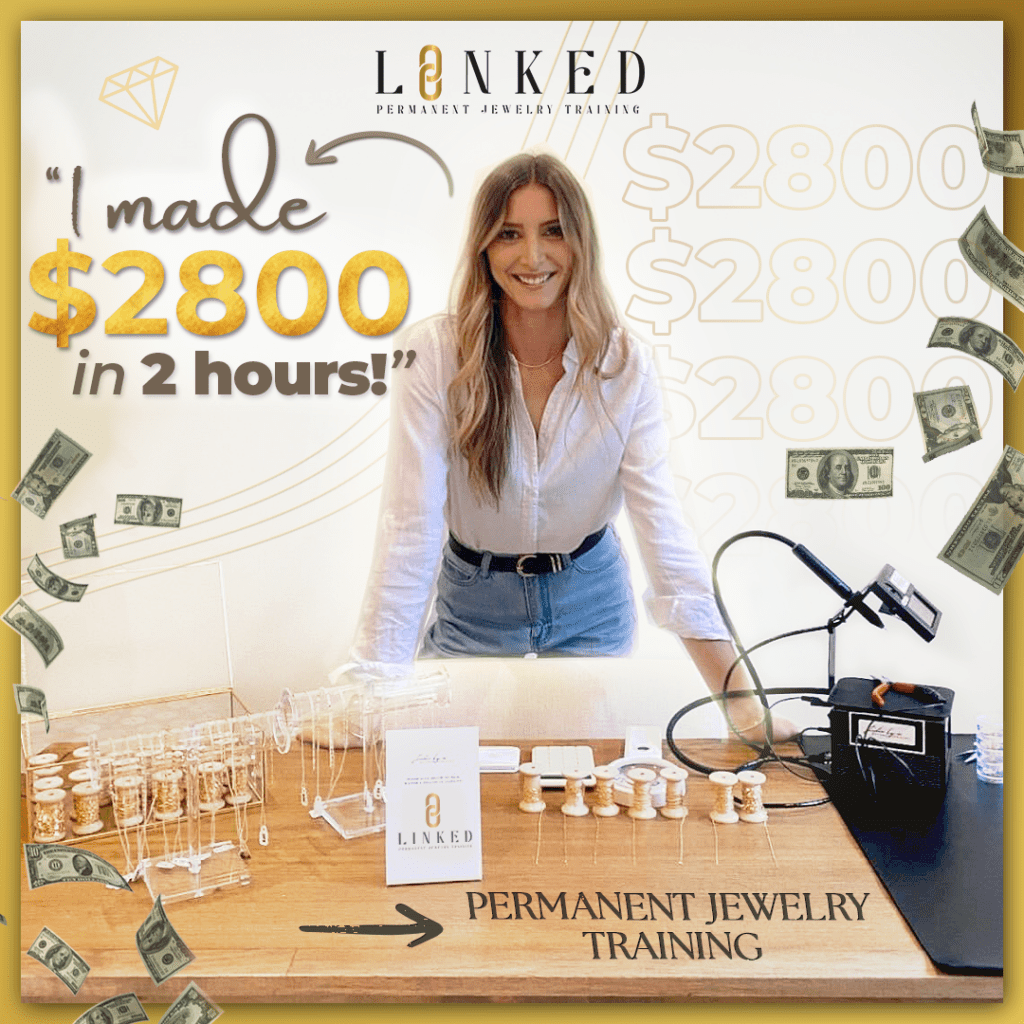 LINKED Permanent Jewelry Training Final Thoughts
LINKED is an exceptional training course for anyone looking to start a permanent jewelry business. Thanks to the co-founders' years of experience, and based on the rave reviews left by other successful students, this training has everything you need to begin a new permanent jewelry career. Use LINKED to get started in this exciting industry.
Take advantage of the course materials and marketing resources included with your purchase of LINKED Permanent Jewelry Training. Engage with the supportive online community to really get your business going. Learn from others as you start your new business and grow your income.
Ready to become a LINKED certified permanent jewelry welder? Use the discount code TRINITYTPAHP at checkout to get $100 off!