9 Best Permanent Jewelry Welders Compared & Contrasted
We foster relationships with brands we use and trust. The testimonials on our site represent real experiences, but they don't guarantee you'll achieve similar results. When you make purchases through our links to our partners, we may earn a commission. Your support helps us continue this work. You can read our full disclosure here.
It can be tricky to source the best materials or products for a new business. This is especially true for new permanent jewelry artists. The market is full of various types of materials, chain vendors, and permanent jewelry welders. Asking a dozen people for their opinions about permanent jewelry materials will likely result in a dozen different answers.
Many new permanent jewelry business owners default to purchasing the least expensive welder because of its low price tag. This is an understandable choice, but don't be in a rush to buy a welder that may not work for you and your business. It's important to consider all of the best permanent jewelry welders on the market, regardless of the price.
Ready to become a LINKED certified permanent jewelry welder? Use the discount code TRINITYTPAHP at checkout to get $100 off!
9 Best Permanent Jewelry Welders
Some of the permanent jewelry welders discussed below are the best of the best that the market has to offer, while others come with a low price tag for beginners. Take each one into consideration before committing to one brand over another.
1. Zapp Welder (Best Price & Brand for Beginners)
The Zapp Welder is one of the newer welders on the scene, and is the most affordable offering from Sunstone. This is a more user-friendly model than most, especially for new permanent jewelry artists. It's the perfect choice for beginners who want to familiarize themselves with welding before purchasing a more expensive machine.
The Zapp Welder was specifically designed for permanent jewelry businesses. It has a 3-10 J energy range in single-Joule increments. This welder weighs only 8 pounds, which is ideal for permanent jewelry artists who need to transport their equipment to various events. Its weld spot diameter is 1–1.5 mm, and the machine can perform one weld every 3 seconds.
This welder doesn't come with a touchscreen option to control the settings, and it performs more slowly than other available Sunstone welders. It also has a larger weld spot diameter. Don't let these points keep you from using it to start your successful permanent jewelry business and later upgrading to another welder in the future.
The Zapp Welder can be purchased on Permanent Jewelry Center's online store or as part of a kit with training companies like LINKED Permanent Jewelry Training. Upon receiving your welder, inquire about Sunstone's Circle of Protection Plan to help keep your welder protected beyond the 180-day warranty that will automatically come with your purchase.
Related: 250 Permanent Jewelry Business Name Ideas
2. Helix Welder (Best Price + Features for Beginners & Pros)
If you're looking for a reliable tool for your permanent jewelry venture, the Helix Welder is a solid choice. It's set up for argon use and has an easy-to-use 3-button interface. The digital display makes it simple to adjust the power from 1 to 30 joules. What's great about this is it lets you work with all sorts of metals – gold, sterling silver, stainless steel, platinum, brass, copper, you name it. So, if one day you're working on a delicate silver chain, and the next, a statement brass bangle, the Helix can handle both.
When you choose the Helix Welder, you're not just buying a tool; you're also getting a long-term business asset. Your welder comes with a solid warranty that covers up to 1,000,000 welds or lasts 3 years, and there are no extra costs or subscriptions. Plus, it's made in the USA, which means you're getting a quality product without breaking the bank.
The Helix Welder also scores big on portability. Its compact and lightweight design makes it easy to carry around. Whether you're working from a small home studio, hosting a private party, or setting up a booth at a local event, the Helix is always ready to go with you.
With its straightforward interface, the Helix is easy to operate, even if you're not a tech whiz. Let the Helix Welder help you bring your permanent jewelry business to life.
3. Orion mPulse Welder With Basic Auto Darkening Lens (Most Popular)
The Orion mPulse Welder is one of the top choices when it comes to permanent jewelry welders, and has the power to tackle nearly any job. It can complete quick, small welds with a light-duty cycle.
The Orion mPulse operates with a 3-30 Joules power range. Sunstone Welders reported that this machine is one of the most popular permanent jewelry welders in the world. It offers a touchscreen control feature and weighs a light 8 pounds, making it easily transportable to various events.
The Orion mPulse Welder's popularity can be traced to its ability to perform one weld every 2 seconds, allowing artists to tackle more customers at each event. The speed at which you can work will also help you make more money in less time. The weld spot diameter range is approximately 1 – 1.15 mm.
Choose from the three available models: Welder with Basic Auto-Darkening Lens, Welder with Upgraded Auto-Darkening Lens, and Welder with Microscope on Articulation Arm. The machine's cost will depend on the model you select.
Make this purchase through Permanent Jewelry Center by paying upfront, or selecting a payment plan. You can also get this one from LINKED Permanent Jewelry Training along with a kit that yields as much as $4,500 in net profit within your first few events.
4. Orion PJ Welder (Best Features for Professionals)
The Orion PJ Welder is known as the original permanent jewelry welder, and is of the best available models. This pulse arc welder was specifically designed to weld small chains onto customers' bodies. Its simple touchscreen feature will help you fully control your welder, plus the power ranges of 1-15 Joules, make this a great option to consider for your first or next permanent jewelry welder.
This 8-pound machine is compact and easily transportable to any event. The Orion PJ can perform one weld per second which is more than enough in this industry. The weld spot diameter range of 0.5 – 1.5mm is nearly impossible to see with the naked eye, giving the permanent jewelry chain a smooth and flawless finish.
The Orion PJ Welder is sold by Permanent Jewelry Center, a Sunstone Welders official dealer, or you can purchase it as part of a complete startup kit from LINKED Permanent Jewelry Training. The cost will vary, depending on which model you choose. Pay for it in full, or inquire about setting up a zero-interest payment plan.
Related: LINKED Permanent Jewelry Training Review
5. Orion mPulse Welder With Upgraded Auto Darkening Lens (ADL)
The Orion mPulse welder with the upgraded auto-darkening lens is a remarkable permanent jewelry machine. This model's touchscreen will allow you to conveniently adjust settings as needed, and its compact design makes it easy to transport to and set up at any event.
The upgraded ADL is larger than the one on the basic Orion mPulse Welder, eliminating the need for cumbersome protective eyewear. When positioned in the welding area, the lens will swiftly and automatically darken with a virtually unnoticeable transition. The total cost including upgraded ADL is $2,600.
6. Orion mPulse Welder With Microscope on Articulation Arm
Select the Orion mPulse welder with a microscope on the articulating arm to help simplify your work, thanks to this feature that will hold the welder pen for you. All you will need to do is position your customer under the microscope, use the touchscreen for power control, and effortlessly weld the jewelry.
Not only is this welder lightweight, at just 8 pounds, but it also boasts impressive speeds, completing a weld in just 2 seconds. Taking advantage of this quick performance will allow you to enhance your efficiency and serve more customers. Priced at $2,900, this machine is in high demand.
7. "Unbranded" Amazon Welder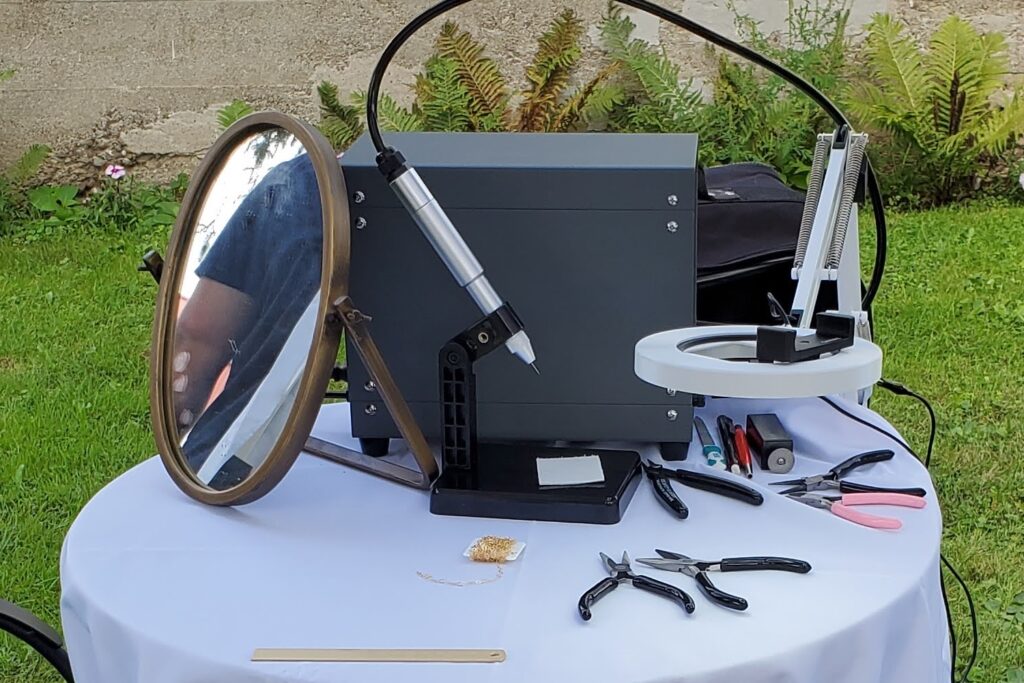 Amazon offers a variety of welders for established and aspiring permanent jewelry artists alike. The unbranded pulse-arc welder sold by LABFENG is one of the current top offerings. This machine is large, weighing more than 16 pounds. It comes with many additional pieces, including tubes, a pressure gauge, a power cable, and a brush grinder.
This is the welder I personally chose to start out with as a new permanent jewelry artist. It is a more affordable choice than many, but it isn't necessarily more convenient, as it is large and requires several parts to make it functional. If you need a welder that will get the job done now, then this welder could still be the best option for you and your business. In my experience, it works well and gets the job done.
New permanent jewelry artists who are considering this welder should make their purchases through LINKED, the top permanent jewelry course on the market. You will receive not only the welder, but also access to the entire LINKED Permanent Jewelry Training course. This program helps new permanent jewelry artists learn how to use their welders, maintain their new businesses, and market themselves for success.
LINKED also gives customers full access to a permanent jewelry kit that includes up to 60 feet of chain link material, jump rings, protective eyewear, tungsten needles, a 30 percent lifetime discount off of supplies ordered through LINKED, and more.
Ready to become a LINKED certified permanent jewelry welder? Use the discount code TRINITYTPAHP at checkout to get $100 off!
Related: Best Online Permanent Jewelry Training Certification Courses
8. Jupiter Welder
Businesses use the popular online marketplace Etsy to sell nearly anything, from vintage clothing to hand-painted mirrors. Check out BeadBoat1 Etsy Shop's Jupiter Welder, which was designed for permanent jewelry artists specifically. This is a low-cost option for anyone who needs a welder now and can't afford to invest in higher-priced machines.
This welder is ready to go as-is, and needs no additional adjustments. It offers a micro power adjuster to help artists make the perfect weld. Practice with this machine before performing your services on your clients. There is a low learning curve associated with this welder, because it is a simple machine that doesn't require additional parts.
Pay for this more affordable option in full, or select the Klarna option at checkout. Etsy partners with this shop now, pay later service to help its customers make no-interest payments on their purchases. Klarna will split your total cost into four installments and allow you to receive your product faster without the initial high price tag.
9. Ding Xing Jewelry Machine on Amazon
Amazon offers a variety of low-priced jewelry spot welders for startups. While this may initially seem like the most cost-effective choice for a permanent jewelry welder, it's essential to weigh all aspects of this machine against its higher-priced counterpoints before making a decision. Its 12-pound heft is portable, but still slightly heavier than some alternatives, and could make transportation challenging.
This welder operates with a foot pedal and is available in yellow or blue. Only a handful of customers have left reviews assessing its performance, but most seem generally satisfied.
If you find yourself needing to quickly purchase a jewelry welder, but lack the financial means to invest in a higher-quality machine, this option is used by many permanent jewelry artists and could provide a temporary solution. Although it may not offer the same level of convenience as other options, it can still fulfill your immediate needs until you're ready to upgrade in the future.
Related: Can You Do Permanent Jewelry Without a Welder?
Find the Perfect Permanent Jewelry Welders
You will need to consider a variety of purchases as you plan to kick-start your permanent jewelry business. It isn't easy to choose the best welder for your new venture, but the above list of permanent jewelry welders was compiled to simplify this task for you. Don't let the cost be the only determining factor.
If you are on the hunt for a welder that performs quickly, remember that the Orion PJ Welder can perform one weld per second. If you want a welder that is easily transportable, consider the compact Zapp Welder. When it comes to affordability, check out the available installment plans to see if they can help you afford the welder you want. Several options can help you with the burden of that cost.
Many permanent jewelry businesses make hundreds (if not thousands) of dollars per event. This success rate means that you could potentially earn back the money you invested into your new welder in just a few weeks. Remember that your customers will carry your jewelry with them forever. Make their experience one they will never forget.
Related: How Much Does it Cost to Start a Permanent Jewelry Company?