6 Best Online Permanent Jewelry Training Certification Courses
We foster relationships with brands we use and trust. The testimonials on our site represent real experiences, but they don't guarantee you'll achieve similar results. When you make purchases through our links to our partners, we may earn a commission. Your support helps us continue this work. You can read our full disclosure here.
Ready to become a LINKED certified permanent jewelry welder? Use the discount code TRINITYTPAHP at checkout to get $100 off!
If you've ever started your own business from scratch, then you know just how exciting this process can be. All of your hopes and dreams are becoming a reality, and you can finally work for yourself. You're also aware that it's important to have all of the proper training in order to start a business off on the right foot. Those who are hoping to break into the permanent jewelry industry are no different. Read on to find out more about the best permanent jewelry training available.
Permanent jewelry training courses are seemingly a dime a dozen. Some are great, while others are lackluster. It's a given that you should invest in a certification course to help you start your business, but you first need to decide which one is right for you. Do your research carefully to make sure your investment is worth it and that you're not wasting your money on a course that won't actually do the job.
Although it's exciting to anticipate starting your own permanent jewelry business, it can still be a daunting process, one that's not easy to do on your own. It's important to complete a permanent jewelry training certification in order to understand all of the ins and outs of this business. The best part is, many of the available training programs can be done online, right from the comfort of your own home.
6 Best Permanent Jewelry Training
The following list includes four of the best permanent jewelry training programs. Keep reading to find out what makes these courses stand out from the rest.
1. LINKED Permanent Jewelry Training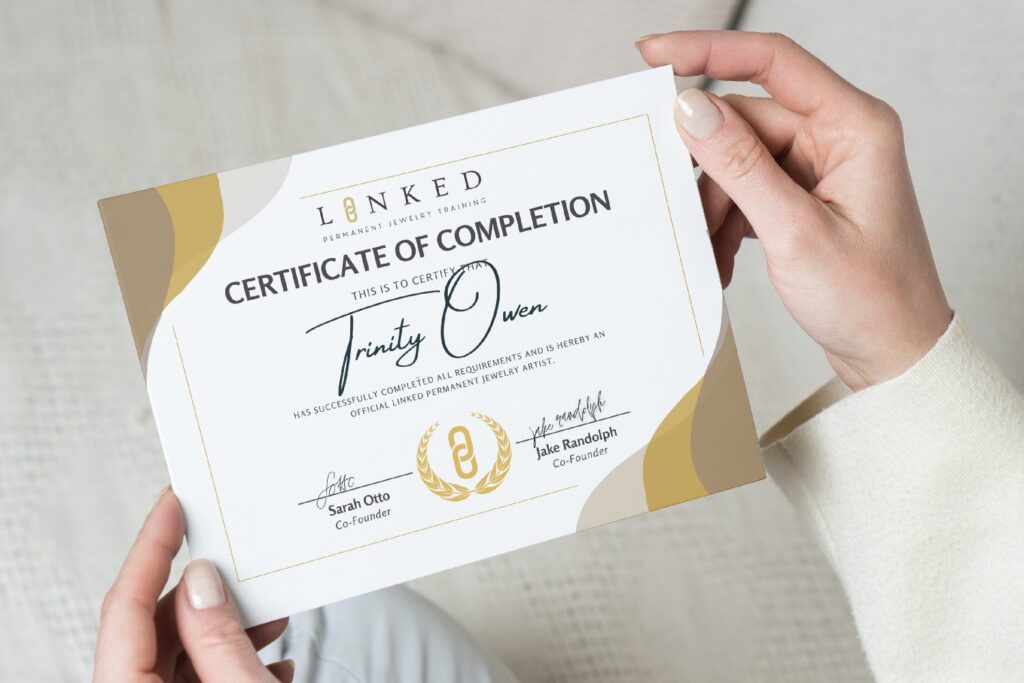 LINKED Permanent Jewelry Training is my No. 1 choice when it comes to permanent jewelry training courses. This is the training program I personally completed and earned my certificate from! Creators Jake and Sarah designed the program to help others kick-start their own successful permanent jewelry businesses. Jake is a successful marketer and Sarah has more than two years of experience with permanent jewelry and 10-plus years of experience welding.
LINKED Permanent Jewelry Training offers three course levels: Deluxe, Orion mPulse, and Orion PJ. Each package comes with access to training that includes marketing materials, the starter kit, lifetime discounts, and a portable welder machine. It really is the perfect permanent jewelry business-in-a-box for beginners.
This program will give you access to the complete permanent jewelry training, including marketing and business modules, a downloadable business workbook, downloadable education charts for your customers, and access to live training call replays. Once you complete this course, you can hit the ground running thanks to all of the available materials that you can use for life.
Select the package of your choice and gain instant access to the course. Your machine and kit will take a short time to ship to you, but you won't even need to wait for them in order to get started. LINKED Permanent Jewelry Training offers payment plan options through Shop Pay for those who cannot immediately pay in full. At checkout, simply choose the payment plan that best fits your financial needs.
Ready to become a LINKED certified permanent jewelry welder? Use the discount code TRINITYTPAHP at checkout to get $100 off!
2. Permanent Jewelry Center's Popular Option
Cost: $2,280 (Orion mPulse Welder + free Sunstone course + free startup checklist)
Coupon code: Discount applied automatically
The Orion mPulse Welder is a standout option for those interested in the world of permanent jewelry. It has rapidly become a favored choice among professionals due to its portability, versatility, and affordability. Manufactured in the USA, this permanent jewelry welder is recognized for its quality and efficiency.
When you purchase the Orion mPulse Welder from Permanent Jewelry Center, you're not only investing in a top-notch tool, but you're also setting yourself up for success. You'll receive access to Sunstone's free inclusive training program. This isn't just an ordinary training, it's a comprehensive online course that covers all aspects of permanent jewelry welding using your Sunstone welder.
As part of the package, you'll also receive access to a downloadable business startup checklist. It includes guidance on how to access wholesale pricing and identifies over 50 considerations you'll need to make for your business. This ensures you have all the tools and knowledge you need to start your own business, cutting through the middleman and maximizing your profit.
3. Permanent Jewelry Center's Beginner-Friendly Option
Cost: $999 (Zapp Welder + free Sunstone course + free startup checklist)
Coupon code: Discount applied automatically
With this package, you'll receive the latest Zapp Welder by Sunstone, along with free training and an entire business checklist to ensure you're starting off on the right foot. The Zapp machine is compact, simple, and, most importantly, user-friendly. You can easily carry it to pop-ups and events or use it in your home or business. The machine is also argon-ready if you decide to use the shielding gas to protect your welds.
4. Permanent Jewelry Center's Pro Option
Cost: $2,660 (Orion PJ Welder + free Sunstone course + free startup checklist)
Coupon code: Discount applied automatically
Taking your business from beginner mode to professional is exactly what Sunstone's PJ Welder can do. You'll have much more control over the power of each weld, which can help you perfect your welds and make them look flawless. The PJ Welder is specifically designed for fine permanent jewelry chains made of all kinds of metals. You can use it with ease for solid gold, gold-filled, sterling silver, stainless steel, and others.
When purchased through Permanent Jewelry Center, the Orion PJ Welder will come with a 50+ item permanent jewelry startup checklist and access to Sunstone's free online training. You can have your business up and running within a week or two with all the knowledge you need to succeed as a permanent jewelry artist.
5. Flash and Fuse®
Flash and Fuse® is one of the only permanent jewelry training certifications that offers both online and in-person classes (available to those who live in Florida). Creator Athena owns her own storefront shop in St. Petersburg, Fla., where she performs permanent jewelry services in addition to holding in-person classes to teach others how to become permanent jewelry artists.
Choose from among the in-person, one-on-one guided online, or online interactive options. Each course varies in price, depending on the level of time investment required by the instructor. Student testimonials indicate that those who have taken this program have been nothing short of pleased with Flash and Fuse®. This course teaches not only permanent jewelry techniques. but the business side of the industry, as well. Use Flash and Fuse® to bring all of the pieces together for your new permanent jewelry business.
This program features lessons focused on marketing, theory education, safety protocols, and practice demos and videos. You can also engage in added permanent jewelry training such as laser cutting (an added cost), to enable you to engrave specialty pieces for your customers.
Related: Best Permanent Jewelry Welders for Your Business
6. Essbe Permanent Jewelry Training Class
The Essbe Permanent Jewelry Training Class is another program to consider when preparing for your new business. Owner Sarah explained that she created this course to be a one-and-done offering that will give her students everything they need to get started. The class includes instructions on building a business foundation, marketing strategies, proper techniques, and more. It will even help you fill your calendar with permanent jewelry events at which you can make hundreds of dollars in just one day.
Each course module is dedicated to a specific part of the permanent jewelry business. The first module focuses on business development, such as legitimizing your business, creating a website, and pricing your services. The second module emphasizes the permanent jewelry process, understanding your equipment, setting up your welder, and getting the perfect weld every time. Finally, you can expect to learn all things marketing, including branding, SEO techniques, and social media – with many done-for-you templates to follow.
Essbe also offers wholesale supplies that will help keep you stocked with all necessary materials. Your course purchase includes the Orion welder at a discounted price. In addition, if you subscribe to the Essbe newsletter, you will receive a 15 percent off coupon that can be applied to jewelry supplies at checkout.
This program's best feature is the fact that it is completely self-guided, so you can complete the lessons at your own pace, on your own time. If necessary, you can sign up for a payment plan through Shop Pay. 
Ready to become a LINKED certified permanent jewelry welder? Use the discount code TRINITYTPAHP at checkout to get $100 off!
Other Permanent Jewelry Training
The market does also include additional training courses that are much cheaper than the offerings listed above. Before selecting one of those alternatives, make sure you understand what you will be sacrificing if you choose the cheaper route.
No Starter Kit: Less expensive permanent jewelry training programs don't come with starter kits, which include everything you will need to start your own business and allow you to practice before taking on paying customers. It can be very expensive to build your own starter kit, so the courses that come with them can end up actually being cheaper in the long run.
Finding Your Own Supplier: Those who purchase cheap permanent jewelry training courses also need to find their own business materials suppliers. This extra step can be avoided by making the choice to go with one of the four courses listed above, which often come with a supplier plus discounts for graduating students.
It can be expensive to find your own supplier – plus a waste of time. You will need to order samples and test the products before selling them to your customers. This will cost you money and time that you ultimately don't want to waste. Your supplier can have a direct impact (good or bad) on the experience your customers receive from your business.
Overwhelming: It can be overwhelming to put together starter kits and find a supplier. This can quickly lead to inaction. Don't burn yourself out before you even start your business. The fact that a course is inexpensive doesn't always mean it's the best option if you lose out on many of the perks along the way.
Left to DIY Your Business: Cheap programs generally offer students the bare minimum when it comes to information. This will leave you having to DIY your business by doing all of the footwork and research yourself. A DIY business is not a sustainable business. It would be a shame to put in all of the work on your own just to have it fall apart later. In the long run, investing in a reputable permanent jewelry training course is the best option.
Ready to become a LINKED certified permanent jewelry welder? Use the discount code TRINITYTPAHP at checkout to get $100 off!
Questions Other New Permanent Jewelry Businesses Are Asking
Find out more by checking out these answers to commonly asked questions posed by other new permanent jewelry business owners.
Is permanent jewelry a good business?
Permanent jewelry is a fantastic business. Through it, you could earn the kind of money that you wouldn't otherwise be able to make at a corporate job. The permanent jewelry field will also provide you with the opportunity to create your own schedule. This is a fun and creative way to spend your time.
You do need to be committed to making this business work. It is a good investment if you want it to be, but it simply won't happen for anyone who isn't willing to put in the time and effort. There is no such thing as free money. You have to earn it.
How long does it take to do permanent jewelry?
Each jewelry artist will work differently. The time it takes to work with a client will be impacted by the type of jewelry he or she selects. For example, applying a bracelet will take less time than a necklace, because there isn't as much material to work with.
On average, you can expect to spend about 10-20 minutes per permanent jewelry piece, per customer. This includes the time it takes for your customer to pick out his or her jewelry, measure it onto the body, and perform the welding.
How much money can you make with a permanent jewelry business?
The amount of money you can make will vary based on your schedule availability and how much you charge for your services. LINKED Permanent Jewelry Training graduates have reported earning roughly $350 per hour, and typically see between four and six customers during that time period.
What qualifications do you need to become a permanent jewelry artist?
You first need to become certified in performing permanent jewelry services. You must also have good customer service skills, impeccable hygiene, and patience. You will be encountering people in close proximity, so you will want to be well-groomed. If you treat your customers well, they will continue to come back to you for future permanent jewelry pieces.
It can take some clients longer than others to choose a chain and length. It's important to remain patient with them as they make their decision, so they don't feel rushed.
Can you offer permanent jewelry in your home?
You can technically offer permanent jewelry services in your home, but it's best to run your business in a separate space so that strangers won't know where you live. Consider renting a spot inside of a nail or hair salon or boutique. You can also offer your services at various events. These are safer methods to conduct business.
Choosing the Best Permanent Jewelry Training Will Benefit Your Business
Your choice of a permanent jewelry training course will have a direct impact on your business's success. The program you select should give you all of the knowledge, training, and practice that you need to succeed in this popular industry. The courses listed above will provide you with your very own starter kit, supplier, and even discounts on materials. There are many benefits to choosing one of the programs mentioned here, and many cons if you select a cheaper one.
You and your business deserve the best chance at success. From LINKED Permanent Jewelry Training, to Flash and Fuse®, to Essbe, take advantage of one of the top choices in permanent jewelry training. Invest in your future with one of these courses and get your business off to a solid start.
Ready to become a LINKED certified permanent jewelry welder? Use the discount code TRINITYTPAHP at checkout to get $100 off!