What Insurance Do You Need for a Permanent Jewelry Business?
We foster relationships with brands we use and trust. The testimonials on our site represent real experiences, but they don't guarantee you'll achieve similar results. When you make purchases through our links to our partners, we may earn a commission. Your support helps us continue this work. You can read our full disclosure here.
Starting a permanent jewelry business is a thrilling and exciting objective. There's a lot to love, from the shimmering bracelets and gleaming necklaces to the interactions with favorite customers. But there are some more serious topics to consider beyond all that sparkle. One of the biggest: insurance.
Permanent jewelry insurance isn't just paperwork; it's your business's safety net. It will protect you if something happens to your inventory, like theft or damage. It will cover you if someone trips and falls in your store, or if an event goes sideways. Having the right insurance can mean the difference between staying open for business and going under.
The specific insurance you'll need for your permanent jewelry business will depend on several factors, like where you're located and what kind of events you will attend. There's no one-size-fits-all insurance policy. Every business is unique and has different needs. Knowing what yours are will help you take the first steps toward getting the right coverage for your permanent jewelry business.
The below sections will detail the different kinds of insurance you might need for your permanent jewelry business. Consider each type to help you determine the best choice for your unique situation. Couple this coverage with your permanent jewelry waiver to ensure your business has the protection it needs to keep operating smoothly.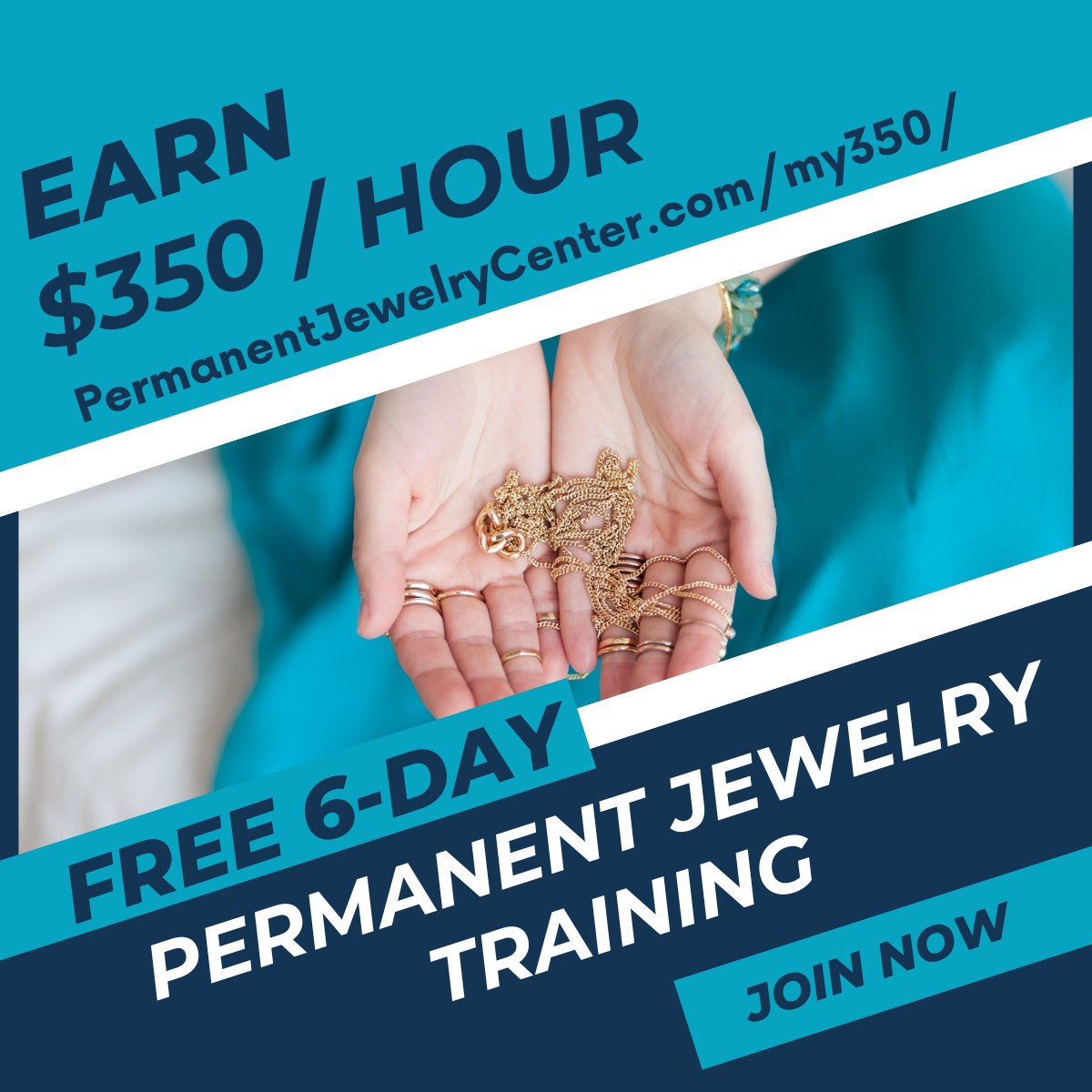 Importance of Insurance in the Permanent Jewelry Business
Let's face it: The jewelry business has its unique set of risks, from theft and burglary, to accidental damage and loss. Many things can and do go wrong. Considering the added risk associated with operating a pulse-arc welder in tandem with a pressurized tank of argon gas, this business brings with it a fairly high level of danger.
When mishaps occur, the financial impact can be substantial. Insurance is like a safety net: It won't prevent all problems, but it can save you from severe economic setbacks.
When it comes to specialized services like permanent jewelry welding, I can't stress enough the importance of proper training. For me, completing the LINKED Permanent Jewelry Training was a game-changer. It not only enhanced my skills, but also solidified my safety techniques, giving me the confidence needed to deliver excellent service without fear of unnecessary mishaps.
Ready to become a LINKED certified permanent jewelry welder? Use the discount code TRINITYTPAHP at checkout to get $100 off!
Related: LINKED Permanent Jewelry Training Review: Is It Trustworthy?
Five Different Types of Insurance for a Permanent Jewelry Business
You might be thinking, "OK, so what kind of insurance do I need?" There isn't a one-size-fits-all answer, so let's look at the most common types of coverage. Each serves a different purpose, so you'll need to decide whether you prefer comprehensive coverage for every area of your business, or are willing to take risks and forgo some protection. Most permanent jewelry artists will opt for general liability at the bare minimum. Consult with a commercial insurance specialist to help you decide what's best for you.
General Liability Insurance: Imagine you're running your store, and suddenly, a customer slips and gets injured. Or consider a scenario in which you accidentally damage a client's property. These situations can get messy, and that's where general liability insurance comes in. It safeguards you against such claims, ensuring that your business continues to run smoothly even when unexpected incidents occur.
Professional Liability Insurance: Also known as Errors & Omissions Insurance, this type of coverage is designed to protect you from any claims that may arise due to mistakes or oversights made while welding jewelry onto your customers. This is an important investment for anyone in the permanent jewelry business, and can save you thousands if anything ever goes wrong.
Jewelers Block Insurance: This unique type of coverage is tailored specifically for those in the jewelry business. It covers your inventory, including items left for repair or on consignment. When you are considering insurance options for your business, remember that jewelers block insurance was designed with your specific needs in mind.
Workers' Compensation Insurance: As a business owner, your employees' well-being must be your top priority. This crucial insurance will come into play if one of your workers ever gets injured on the job. It's designed to protect your team members if they sustain injuries at work. With this insurance in hand, you can rest assured that your employees are safeguarded, and they can work with confidence, knowing they are completely covered.
Commercial Property Insurance: This is essential for any brick-and-mortar business owner. It serves as a safety net for your shop and everything inside it. If something unexpected happens, like a fire or other disaster, this insurance will step in to help you bounce back. It's all about keeping your business safe and secure, no matter what life throws at you.
Related: Best All-Inclusive Permanent Jewelry Starter Kits
Factors to Consider When Choosing an Insurance Policy
Choosing the right insurance for your permanent jewelry business isn't a task to be taken lightly. You need to do more than just pick the first policy that you find. This process requires a well-thought-out approach, taking into account several key factors. It's essential to ensuring you're choosing the best protection for your business.
Start by considering the cost. Insurance is a critical investment for the future of your business, but it doesn't have to drain your resources. Take the time to compare quotes and search for a policy that not only covers permanent jewelry welding, but also aligns with your budget – while maintaining quality.
You also need to examine the coverage. Your chosen policy should comprehensively cover all potential risks tied to your permanent jewelry business, from theft to accidental damage. Good coverage is about more than just peace of mind; it's about protecting your livelihood.
Don't forget about deductibles – what you'll pay before your insurance steps in. This is a delicate balance; lower deductibles mean higher premiums, and the other way around. Choose the balance that fits best with your financial strategy.
Finally, consider the insurer's reputation. A reliable insurance company with positive customer reviews and ratings can make all the difference. You want an insurer who will be there for you in your hour of need.
How to Get Permanent Jewelry Insurance
Securing coverage for your permanent jewelry business is a straightforward process. In fact, with some insurance companies, your business can be covered on the very day you apply. Here's how to initiate the process:
First, identify your needs. Understand the risks your business could face, like theft or accidental damage. You might also need coverage for business interruptions or employee safety. Knowing your specific needs will help you figure out what kind of safety net you should pursue.
Next, find the right insurance company. Search for companies who offer the coverage you need for the specific services you provide. Permanent jewelry is a relatively new business venture, so making industry-specific inquiries can assist in identifying companies that provide needed coverage. Check their reputability, as customer reviews and ratings can give you a good idea of their reliability and service quality.
Applying for coverage is the next step. You'll need to provide detailed information about your business. Be honest and thorough to avoid any future issues. Once you have coverage, pay your premiums on time and review your policy regularly to make sure it continues to meet your needs as your permanent jewelry business grows and changes.
Related: The Best Permanent Jewelry Chains & Supplies You Need
Insurance Provides Protection Rather than Prevention
Permanent jewelry insurance is a critical aspect of your business, but it won't prevent mistakes from happening. Instead, it provides a safety blanket, covering your tracks when unforeseen incidents occur. That being said, the onus is still on you to ensure that you're equipped with the proper training and safest tools to serve your customers effectively.
It's all about striking a balance between having a robust insurance policy and investing in professional development. This approach not only safeguards your business, but also fosters trust and confidence among your clientele. Your customers trust you to choose high-quality jewelry to safely weld onto them, and your expertise and professionalism are just as important as your insurance coverage.
Take a step back, consider your options, and make an informed decision that will provide the best protection for your permanent jewelry business. Your dedication and commitment to your work, combined with a suitable insurance plan, will lay a strong foundation for your business's success. It's not just about avoiding potential pitfalls; it's about ensuring a bright, secure future for your permanent jewelry venture.
Related: Permanent Jewelry Business Name Ideas
Ready to become a LINKED certified permanent jewelry welder? Use the discount code TRINITYTPAHP at checkout to get $100 off!