7 Best All-Inclusive Permanent Jewelry Starter Kits
We foster relationships with brands we use and trust. The testimonials on our site represent real experiences, but they don't guarantee you'll achieve similar results. When you make purchases through our links to our partners, we may earn a commission. Your support helps us continue this work. You can read our full disclosure here.
Permanent jewelry isn't a new fad or passing trend. It's been around for decades, although it has grown into a booming industry within recent years. Its rising momentum can be attributed to the many celebrities showing off their permanent jewelry and to widespread shows that feature this beautiful fashion trend. Far from being saturated, the field is open to any aspiring permanent jewelry artists, who can break into this popular career by investing in one of the best permanent jewelry starter kits available.
As a new permanent jeweler, it is crucial for you to invest in one of these starter kits. They contain everything you will need to start your new business off on the right foot. Some of the kits will include the permanent jewelry welder machine, while others will provide only pertinent materials like chains, loop rings, and pliers. Owning any of these starter kits will allow you to understand what types of chains your customers prefer, so you can keep them in stock.
No two starter kits are the same, so it's important for you to decide which option is best for your business. After all, you will use this investment to kick-start your new venture. Use this guide to help you discover which of the available permanent jewelry starter kits is best for you.
Ready to become a LINKED certified permanent jewelry welder? Use the discount code TRINITYTPAHP at checkout to get $100 off!
7 Permanent Jewelry Starter Kits
I have done a lot of research on all of the available permanent jewelry starter kits and narrowed it down to eight that are the best of the best. I'll share details about each one, what they all include, and how each one could benefit your new business.
1. Helix with Starter Kit
The Helix Starter Kit is a comprehensive package perfect for anyone looking to step into the permanent jewelry industry, ready to go. This kit includes the professional-grade Helix PJW, a permanent jewelry welder that's the ideal tool for creating lasting pieces. It's accompanied by a sturdy, powder-coated stylus stand, dual voltage power supply, and protective glasses. To ensure smooth welding, you'll also find 1mm electrodes, argon tubing, and two types of grounding clips.
The Helix Starter Kit also includes 20 feet of assorted chain in both gold-filled and sterling silver, along with 100 jump rings in each material. This variety allows you to experiment with different styles and designs to learn exactly what your target audience prefers. The kit also provides unique grounding pliers specially designed for holding jump rings during welding, and high-end flush cutters for precise chain cutting. An added bonus is the non-toxic foam cleaner to keep your display jewelry in pristine shape.
If you're just getting started in the permanent jewelry business, the Helix Starter Kit can cater to your needs. The welder's user-friendly interface requires no extensive training or technical knowledge, making it a great choice for beginners. With the Helix Starter Kit, you're not just investing in a product; you're investing in the growth and success of your permanent jewelry business.
2. LINKED Orion PJ Package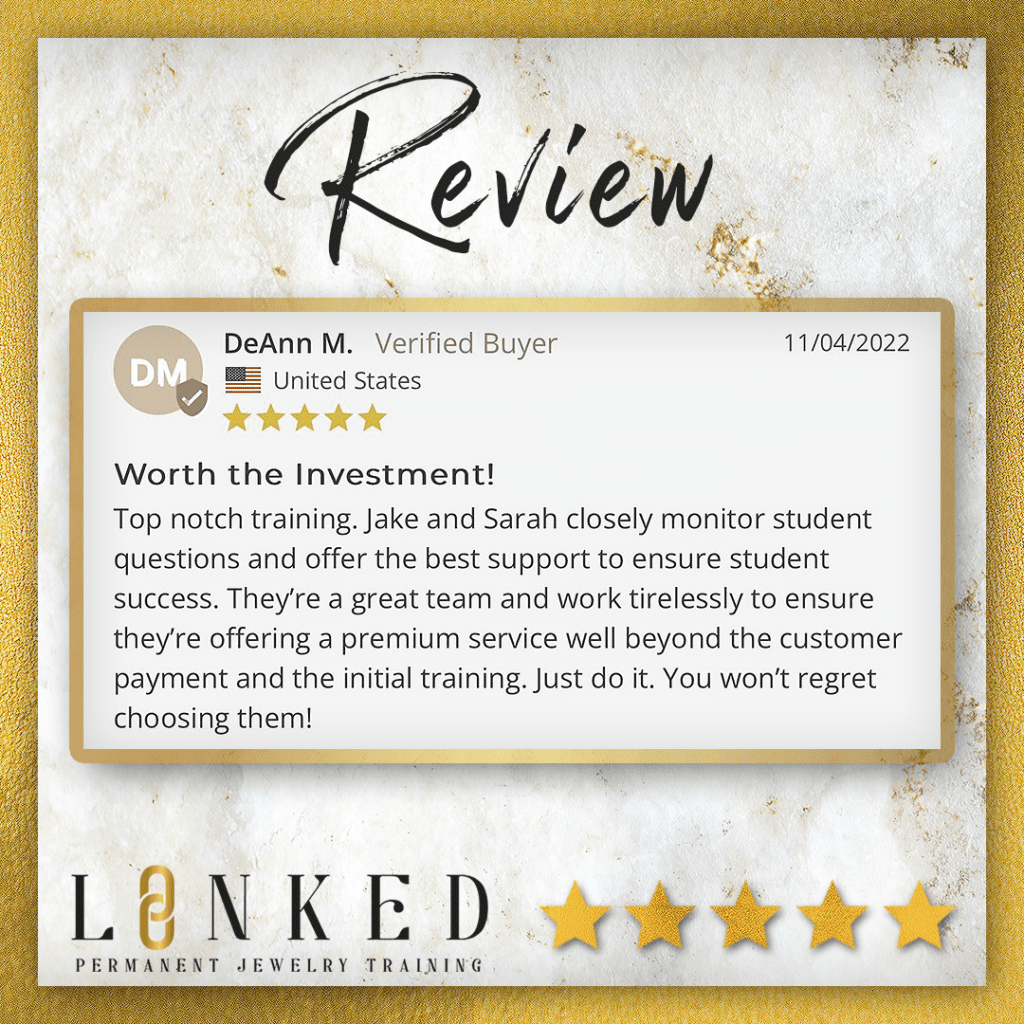 LINKED Permanent Jewelry Training is a top choice when it comes to virtual training and starter kits. The Orion PJ package offers the easily transportable Orion PJ welder.
This machine includes a touchscreen and smart energy control, and is designed specifically for permanent jewelry. It weighs less than 3 pounds, making it a convenient choice for your new business.
This package also contains a full permanent jewelry starter kit complete with jump rings, needle-nose pliers, wire cutters, and protective eyewear, plus 60 feet of chain that you can use for practice and to start making money at events. You will also receive additional materials such as a leather patch, magnifier, and electrodes for your welder.
You must purchase the LINKED Permanent Jewelry Training course in order to purchase the starter kit. This will end up being a beneficial investment, because the course will teach you everything you need to know about starting a permanent jewelry business, plus how to use your machine and tools safely and effectively.
3. LINKED Orion mPulse Package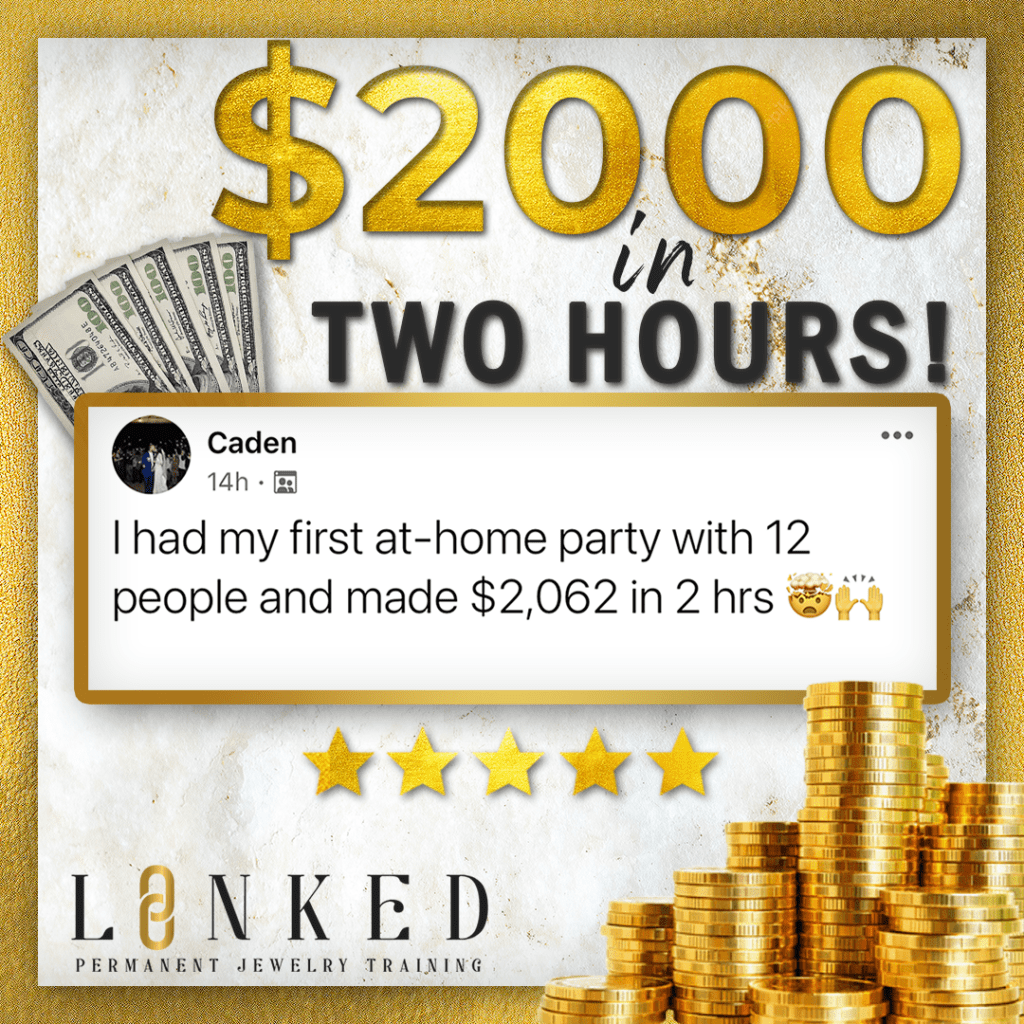 The LINKED Permanent Jewelry Training Orion mPulse package is an extremely popular option for permanent jewelry starter kits. It includes the Orion mPulse welder machine, which is perfect for welding permanent jewelry. It's compact, measuring just 5.5 x 5 x 3 and weighing 8 pounds.
The Orion mPulse welder machine also offers a touchscreen, stylus extender, and two-year warranty. This machine is well known to curate a seamless weld.
In addition to the machine, this package also includes a complete starter kit that covers all of the necessary materials for a new permanent jewelry business, such as 60 feet of chain, jump rings, and pliers, plus two sets of protective eyewear for you and the customer.
Your purchase of this starter kit will also give you access to the LINKED Permanent Jewelry Training course to help you fully understand how to use your materials and create a profitable business.
4. LINKED Zapp Starter Kit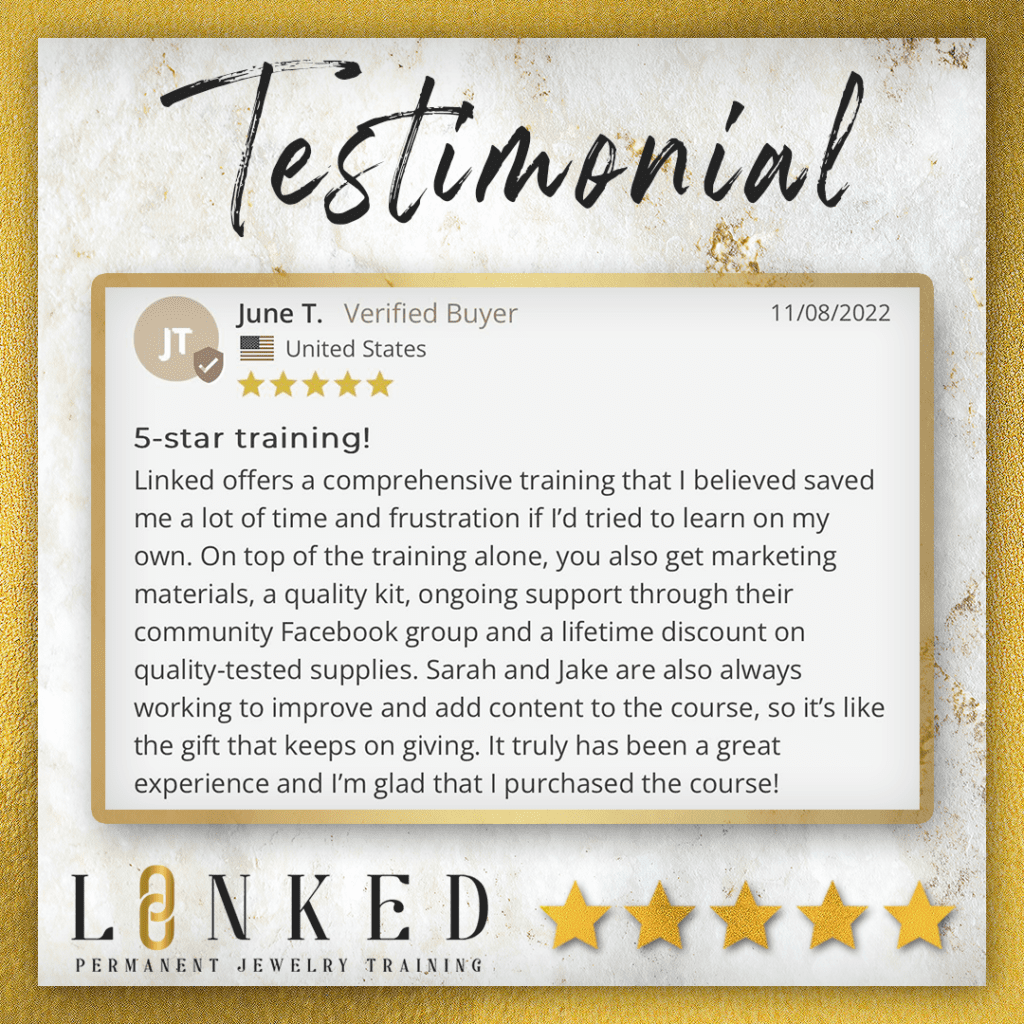 The LINKED permanent jewelry starter kit is new, affordable choice for beginners. The purchase of this kit also gives you access to the LINKED Permanent Jewelry Training program and includes Sunstone's newest Zapp welder.
This kit comes with 60-feet of chains, jump rings, welding safety glasses, a leather protection patch, pliers, cutters, and much more. You will also receive a fiberglass pen, tungsten, a mini grinder, an argon flow meter, and more.
LINKED Permanent Jewelry Training provides information covering how to use your machine, materials, and tools. You will also learn how to market your services and set up your business from start to finish. LINKED has put together a business-in-a-box for all aspiring permanent jewelry artists.
5. LINKED Deluxe Machine Package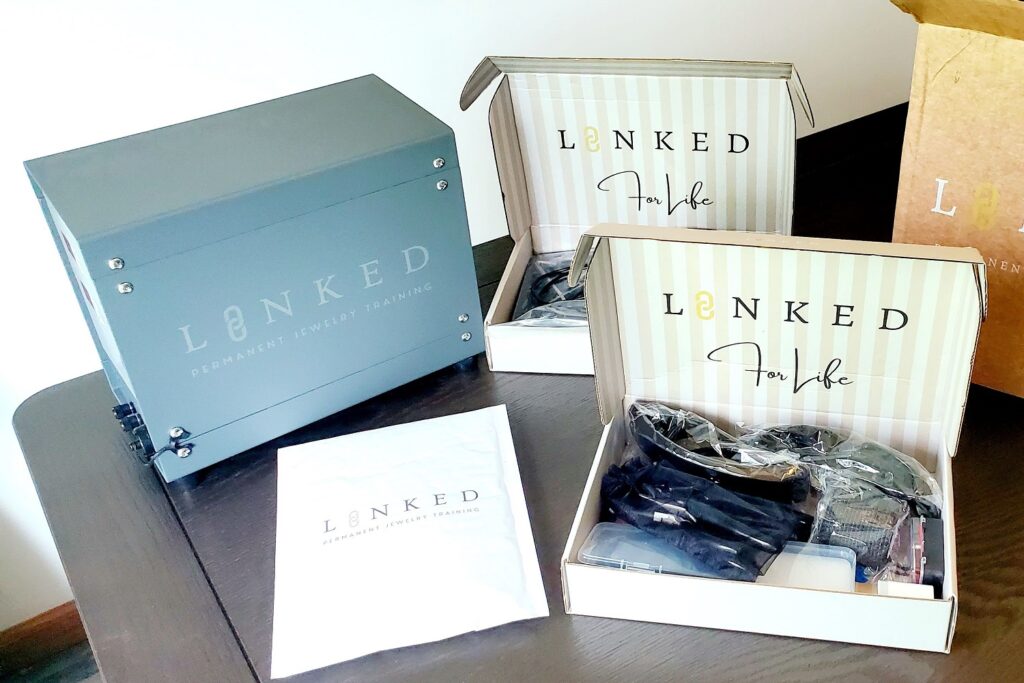 LINKED Permanent Jewelry Training's final starter kit option is the Deluxe Machine Package, which comes with a deluxe welder machine that has an MSRP of $400. It's the machine I personally chose to invest in as a new permanent jewelry artist, with the intention of upgrading to a more luxurious welders down the road. It's larger in comparison to other welders, measuring 11 x 6 x 8.5 inches and weighing 12 pounds. Keep in mind that its heft may make it difficult to transport to your events.
The deluxe welder offers a limited warranty and no touchscreen, but does create a seamless weld. This could be a good option for anyone with a limited budget, but remember that you will need to transport this larger machine to each event at which you will be performing your services.
In addition to the deluxe welder, this permanent jewelry starter kit comes with all of the materials you will need to kick-start your business, including protective eyewear, pliers, 30 feet of 14K gold-filled chain, 20 feet of sterling silver chain, and 10 feet of rose gold chain. You will also receive jump rings, a Dremel, tungsten needles, and more.
Ready to become a LINKED certified permanent jewelry welder? Use the discount code TRINITYTPAHP at checkout to get $100 off!
6. Flash and Fuse Starter Kit
The Flash and Fuse® starter kit is one of the best on the market. When you purchase the Flash and Fuse® permanent jewelry training course, you can add the kit and welder, or buy just the course and the kit.
The Flash and Fuse® starter kit includes 20 feet of chain, hand tools, a Dremel, and jump rings, plus a 19-piece jewelry-making kit complete with argon regulator, leather protector, jeweler's magnifying glass, and more.
You will receive the Orion mPulse welder if you decide to purchase the machine in addition to the kit and the course. This welder is compact and easy to transport, making it convenient to bring along to events.
Related: 250 Permanent Jewelry Business Name Ideas
7. Amazon Kit
The online behemoth Amazon sells a variety of permanent jewelry welding starter kits that can help you kickstart your business. These kits typically include tweezers, a cleansing sponge, a cheap welder, and more. You will need to purchase the necessary jewelry components separately, potentially increasing your overall expenses.
The Amazon welder kits don't come with any training materials, so opting for a kit from this retailer – which doesn't include any proper training – may result in burnout, discouragement, or even failure in your business venture. It's essential to avoid taking shortcuts when building a successful business.
Permanent Jewelry Starter Kits are Crucial for Your Business
It's impossible to start a successful permanent jewelry business without first purchasing startup supplies. Each kit listed above includes everything you will need to kick-start your new venture. They not only come with tools and materials, but also include courses that will guide you each step of the way.
It's not hard to choose the right permanent jewelry starter kit for your budget and lifestyle. It all boils down to how much you want to spend and what you prefer to be included in your startup supplies. Some of the options we've covered go above and beyond what's offered in typical kits, meaning you should really do your research to decide which one offers you the most value. Personally, I went with LINKED Permanent Jewelry Training's Deluxe Machine Package, and it has been the best investment I have made to get my own business off the ground.
Start your new permanent jewelry business off on the right foot with the purchase of the best starter kit available. Invest in one of the kits and training courses mentioned above to give you the best chance of success. The starter kit you choose will have a direct impact on the future of your business.
Ready to become a LINKED certified permanent jewelry welder? Use the discount code TRINITYTPAHP at checkout to get $100 off!